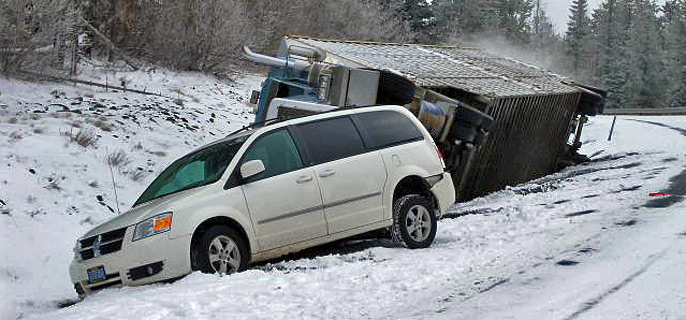 A multi-vehicle crash on Highway 204 near milepost 18 in Umatilla County Tuesday morning resulted in the death of 10 cows and one injured motorist.
A semi-truck and trailer carrying cattle, driven by Robin Kohls, 57, of Kooskia, Idaho, was traveling eastbound on Highway 204 when it slid on snow and ice and became stuck on the highway around 9 a.m., according to the Oregon State Police.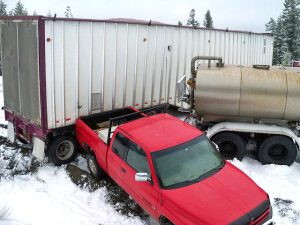 A Dodge pick-up truck, driven by Richard Arbogast, 44, of Elgin, was eastbound when he came upon the semi-truck and tried to stop in the westbound lane. Meanwhile, a third vehicle, a Kenworth semi-truck and trailer driven by Karl Furgerson, 42, of La Grande, was westbound and collided with Arbogast's vehicle. A fourth vehicle, a 2010 Dodge van driven by Diane Weatherspoon, 70, of Elgin, was traveling westbound. Weatherspoon was unable to stop in time. A fifth vehicle, a Peterbilt semi-truck and trailer carrying cattle, driven by Grant Raymond, 47, of Enterprise, was traveling westbound and crashed into Weatherspoon's van and came to rest on its side.
OSP said at least 10 cattle in Raymond's trailer died from injuries sustained in the crash. Weatherspoon was transported to St. Anthony Medical Center in Pendleton with minor injuries.
OSP troopers are continuing the investigation and no enforcement action has been taken. All the motorists were wearing safety belts at the time of the crash. The highway was closed for several hours while crews cleared the crash scene.
OSP was assisted at the scene by Oregon Department of Transportation, Umatilla County Sheriff's Office and the East Umatilla Rural Fire Department.