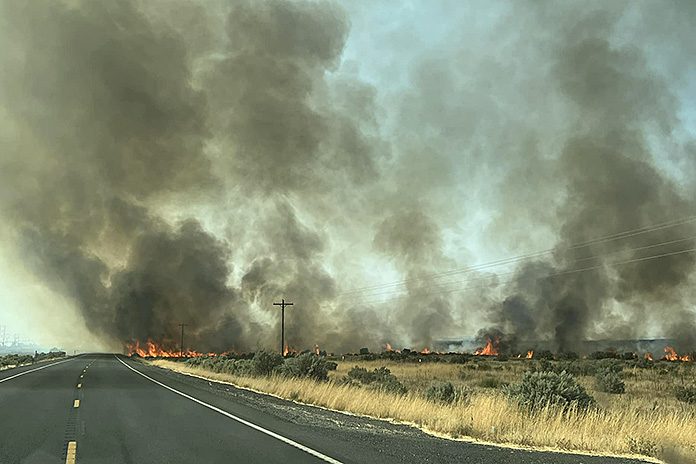 Firefighters on Wednesday battled brush fires covering 500 acres in the area of Highway 730 and crews remain on the scene today extinguishing hot spots.
Around 1:29 p.m. on Wednesday, Umatilla County Fire District #1 responded to a report of a brush fire in the area of Highway 730 at milepost 191. Upon arrival, firefighters found two separate fires actively burning along the highway.
Around the same time, the Umatilla Rural Fire Protection District requested assistance from UCFD#1 to fight a brush fire off Devore Road.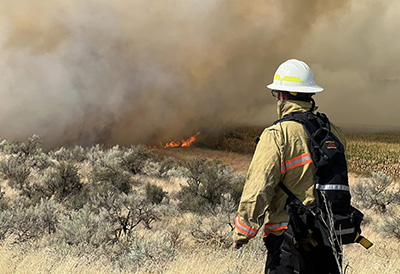 The cause of the fires have yet to be determined and the fire marshal has begun an investigation. Damages from the fires include fences, power poles and the wildlife refuge.
There were reports Wednesday that Hat Rock Campground was put on evacuation notice, however, it was put only on Level 1 notice, according to UCFD#1.
Mutual aid was provided by numerous agencies including the Oregon Department of Fish and Wildlife, Bureau of Indian Affairs, State of Oregon Military Department, Oregon Office of State Fire Marshal, Irrigon Fire Department, Boardman Fire Rescue District, Echo Fire Department, East Umatilla County Rural Fire Protection District and the Pendleton Fire Department.
The Bureau of Indian Affairs and the Forest Service are currently patrolling the area looking for and extinguishing any hot spots, according to UCFD#1.