A vehicle believed to be involved in the murder of a Umatilla man is being processed by a California crime lab in hopes of uncovering evidence connected to the March 4 shooting in Hermiston.
On Sunday, March 22, the Hermiston Police Department flew an HPD detective and an HPD captain to the Los Angeles area to assist California crime lab officials with the processing of a vehicle believed to be involved during the night of the homicide that took the life of 23-year-old Alonso Madrigal.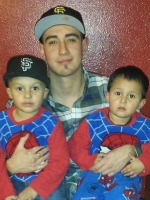 "Specific information about the vehicle may be released at a later date but the vehicle was seized on March 18th after detectives from here contacted detectives in California asking for assistance in locating the vehicle," said Hermiston Police Chief Jason Edmiston.
Edmiston said the case is still moving slowly, but progress is being made.
"Based on the information known, I am confident the vehicle being processed today in California is the vehicle that was involved on the night Alonso was killed," he said. "I believe we will locate evidence within the vehicle that will support information known to us."
HPD is asking anyone with information about the murder of Madrigal to contact Capt. Travis Eynon at 541-667-5103.