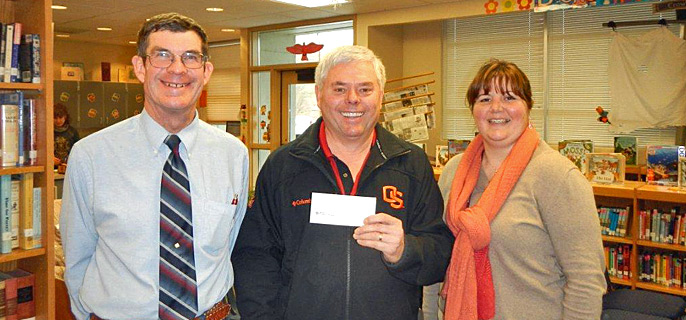 Ione Community School is set to be the proud owner of new musical instruments thanks to a $15,000 grant from the Morrow Education Foundation received Wednesday.
The foundation awarded the funds to Ione from enterprise zone payments stemming from economic development in the Columbia River Enterprise Zone.
The funds will be used to purchase flutes, clarinets, trumpets, an alto saxophone, a trombone, two snare drums, a tuba and a bass drum. All of Ione's fifth- and sixth-grade students take beginning band and many of them continue in pep band or advanced band through middle and high school.
There are 159 students in Ione's music program, which includes choir and elementary choir with band courses.
"These will be quality instruments the students can use to learn and advance, rather than having to rent from The Dalles, which can be a hardship for families," said Sarah Crane-Simpson, the school's principal. "We are incredibly thankful for this generous give for our students in Ione."
Crane-Simpson said the instruments have already been ordered through the InterMountain Education Service District's co-op and will be used throughout all the grades depending on what instrument students choose to play.
Foundation board member and Port of Morrow Commissioner Don Russell presented the check to the school Wednesday afternoon.
Russell – who also chairs the enterprise zone committee – said the funds are part of a payment received through negotiations for tax abatement in the enterprise zone and were designated specifically for education.
Port of Morrow General Manager Gary Neal said education is an important part of Morrow County and industries in the enterprise zone recognize that.