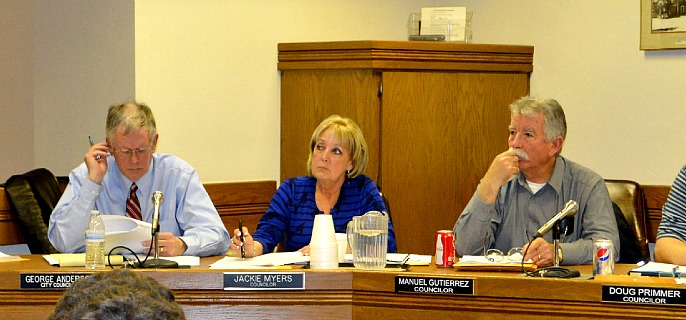 Twenty years on the Hermiston City Council isn't quite enough for Jackie Myers, so the veteran councilwoman is putting on her running shoes once again.
Myers, who was first elected to the council in 1994, is the second-longest serving member on the council – only fellow Councilor Rod Hardin has served more consecutive terms. Myers is being challenged for her Ward 3 seat by Jim Leitch.
Myers said she wants to be on board when the city hires a new city manager to succeed Ed Brookshier, who is stepping down at the end of the year. Brookshier has been city manager for the past 22 years.
"First I feel that it is very important to make the transition for the new city manager as smooth and positive as may be," she said. "I could provide insight into how the city has grown and changed over the past few years." Myers said choosing the next city manager will a crucial decision for the council.
Myers, who also serves on the city's Parks and Recreation Committee, said there are a number of important areas she would like to continue working on if re-elected. She cited the city's new Community Enhancement Committee as an area of interest to her. The committee will focus on Hermiston's visual appeal and overall livability.
Myers points to a number of projects she is proud to have played a role in during the past few years, including the development of the Oxbow Trail.
"Finally, after many year of hard work getting funding and all agencies to come together" the trail will be officially dedicated on May 3, Myers said.
She said the city has worked hard to bring more economic development to Hermiston, specifically Dupont Pioneer's expansion of its production plant that will double its production capacity. She is also proud of the city's role in the 2011 opening of the Eastern Oregon Higher Education Center.
And, she said, the city finally succeeded in getting the Oregon Department of Transportation to include Hermiston on its road signs along Interstate 84.
"Signage on I-84 actually indicates where we are located now," she said.
Myers said after 20 years on the council, people have come to know where she stands on the issues and her dedication to the city.
"People know me and know they can depend on me," she said. The lifelong Hermiston resident said she is looking forward to four more years serving the city she loves.
"I think Hermiston has many great opportunities head of us that I would like to help bring about," she said.
The election takes place May 20.
More Stories from Northeast Oregon Now:
Chamber Honors Professional Assistant of the Year
City, County Back EOTEC Site Plan
Group Wants Sheriff to End Immigration Enforcement Detainments