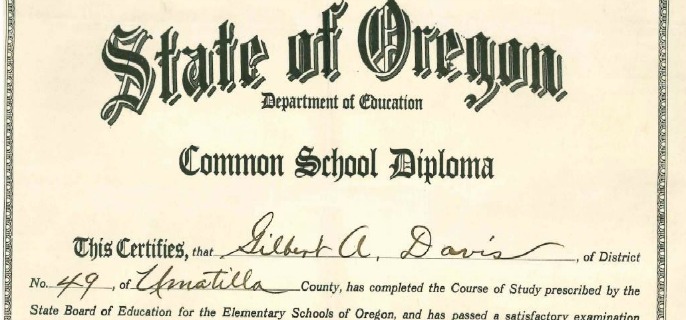 A diploma lost for almost a century will soon be on its way home.
The Umatilla School District recently received a package from the Oregon Department of Education containing an eighth-grade report card, reading award and a "common school diploma" – awarded after completion of eighth grade – for one Gilbert A. Davis of Umatilla County. The diploma was dated 1927 and had been lost in the mail for 87 years.
After a call for information about Davis and his descendants, the district connected with Glenn Davis of Richland, Ore., Davis' son.
"I was surprised," he said Tuesday. "I'm not even sure how they found me. He said he graduated from eighth grade, and I just figured he had his diploma. This was way back in 1927. I can't believe they still had it around."
Glenn Davis said his dad, Gilbert Davis, went to school in Weston but moved to Montana for a short period of time after he finished eighth grade. The family then returned to central Oregon, around Redmond.
Gilbert Davis went on to own a ranch near Prineville for about 60 years, according to his son.
"He was a rancher for most of his life," Glenn Davis said.
Glenn Davis said his father died about 15 years ago.
Umatilla School District Superintendent Heidi Sipe said she plans to mail the records to Glenn Davis this week.
More Stories from Northeast Oregon Now:
Hermiston Passes Supplemental Budget
Log Truck Driver Crashes into Creek
Volunteers Needed to Plant Trees at Oxbow Trail