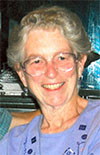 Nancy S. Leroux Bickler of Hermiston passed away peacefully in a respite home in Hermiston on Oct. 16, 2019 at the age of 91, with her son and his wife nearby. It was the end of a short but hard battle lost to cancer.
She was born on Aug. 2, 1928 in Portland to Marjory McFarlane and Harrison Standish Smith.
Nancy graduated from Grant High School and went on to attend the University of Oregon, where she earned both a bachelor's and a master's degree (ZTA sorority member). Nancy's teaching career began in 1951 in Philomath High School, where she taught math and English. She then taught at Oakridge High School, then back to Portland where she taught at Grant High School.
In 1959 she married Lester A. Leroux (originally from Walla Walla, Wash.) and they moved to Boardman, where they both taught at Riverside High School. While teaching in Boardman, she was the recipient of the Golden Apple Award.
Nancy and Lester had two children, Leonille Ann (Leanne) and Michael Julien Leroux. Lester died 1984. Nancy continued teaching mathematics in Boardman until her retirement in 1993, a total of 42 years teaching. She was a member of the Daughters of the American Revolution and the General Society of Mayflower Descendants.
Nancy and Lester enjoyed traveling through Europe, Asia and the U.S. She continued traveling after her retirement. In 1997, Nancy married Gordon V. Bickler, DMD and moved to Salem. They spent 19 happy years together traveling the world. They visited China, Russia and several African countries, and they also went to Dutch Harbor in Alaska, where Gordon was stationed during World War II. They shared many great trips through the years until health issues grounded them. Gordon died in 2015 at the age of 94. She lamented, no more travels, but wonderful memories. Nancy decided to move
closer to family and once again found herself in Eastern Oregon, living in Hermiston.
She is survived by her daughter, Leanne; son, Michael (wife Laurie); and one grandson, Julien R. Leroux.
Nancy was preceded in death by her parents, Harrison and Marjory Smith; first husband, Lester Leroux; and husband, Gordon Bickler.
Mass of Christian Burial will be held on Friday, Oct. 25, 2019 at 1 p.m. at Our Lady of Angels Catholic Church, Hermiston.
Burial will follow at the Hermiston Cemetery.
Please share memories of Nancy with her family at burnsmortuaryhermiston.com.
Burns Mortuary of Hermiston is in care of arrangements.