While National FFA Week is being celebrated across the country, the Board of Agriculture got a chance to hear about the great work being done in Oregon by the state's youthful FFA leaders. The presentation by state FFA officers at this week's quarterly meeting of the board put a spotlight on how the next generation of agricultural leaders in Oregon are preparing themselves for a successful future.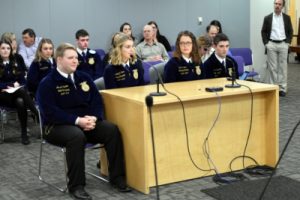 This special week embraces more than 90 years of FFA traditions while looking forward to the organization's future. More than 650,000 members are participating in National FFA Week activities at local, state and national levels. Designated a national week in 1947, the week of George Washington's birthday, National FFA Week gives FFA members an opportunity to educate the public about agriculture. During the week, chapters conduct a variety of activities to help others in their school and community learn about FFA and agricultural education.
For the state FFA officers in Oregon, a key audience was the Board of Agriculture.
The importance of connecting young people to the vast opportunities offered by agriculture is important enough to the Oregon Department of Agriculture that the agency's new strategic plan contains a key objective aimed at promoting the food and agriculture industry as an exciting career choice.
"It's about us connecting to youth organizations around the state, including FFA, to talk about career opportunities in agriculture," said ODA Director Alexis Taylor at the Board of Agriculture meeting in Salem. "We are going to need young people who are excited about working in agriculture. At ODA, we need young, smart people as well to come and work for the state."
The presentation by state FFA officers indicates that the future looks bright.
Kourtney Lehman of Baker City currently holds the office of FFA State President. The experience is giving her leadership skills that will follow her whether or not she pursues agriculture as a career. But chances are, ag will always be in her future. Her experiences include raising market steers and dairy heifers as well as helping her father's custom farming operation.
"I was lucky enough to spend my summers raking and baling hay while my friends were down at the lake," Lehman told the board. "But I really did enjoy that experience."
Leadership development is the hallmark of FFA, providing confidence and communications skills that allow young people the ability to advocate for agriculture and other impassioned interests. That has been a life changer for Lehman.
"Throughout the course of my academic journey, I have always feared those moments when the teacher would force me to speak in front of the class," she said. "Sweat glistening on my forehead and voice shaking, public speaking was a dreaded occasion in my mind. Furthermore, I was thankful for the opportunity to work in the family business as it required no job interview. This all changed due to my involvement in the FFA."
Speaking competitions and other FFA experiences gave Lehman the confidence to experience success in future endeavors. The reward for her and other FFA participants is preparation for life after high school.
The agricultural education component of FFA includes classroom instruction and supervised agricultural experiences where students learn by doing. Projects range from entrepreneurship to getting an on-farm or business internship. Competitions and workshops allow for additional skill development and career exploration.
The state affiliate of the national organization consists of 115 chapters found in secondary schools throughout Oregon. FFA has always been a place to learn about agricultural production and farm management. Students can work with animals, showing or judging them at the State Fair and other venues.  FFA can also help develop proficiency in mechanics and machine operation, Education in greenhouse and nursery operations, landscape management, and agri-business reflect the diversity of Oregon agriculture and forestry, and have resulted in an increase in the number of students involved in Oregon FFA following years of decline. FFA also emphasizes community service. It's more common these days to see a young adult wearing the familiar dark blue jacket of an FFA member helping his or her local community.
"We are walking into those classrooms and not just talking to FFA kids," said FFA State Vice-President Emma Rooker of Bend. "We talk to students who play sports, students who are involved in the drama club, students who may never wear the blue jacket. We are there to impact those kids, too. These are kids who will get maybe one representation of agriculture, but we're going to represent it to them in the best, truest form possible."