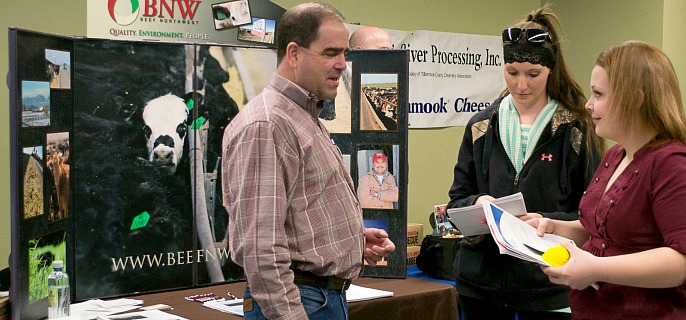 Thirty employers, educational institutions and government agencies had the opportunity to meet with more than 400 job seekers and students Wednesday at the second annual SAGE Center Agriculture and Energy Job Fair.
SAGE Center Manager Kalie Davis said the goal of the job fair, attended by 470 people, is to make connections.
"If the employers are successful in finding a workforce, we consider the job fair a success," Davis said.
Employers included local food processors, farming operations, technology and energy companies, with educational institutions and government agencies also participated in the event. High school and college students from across the region attended the event to learn about job and education opportunities.
"By building a relationship with students in our region we are able to let them know early on about the employers in our area and the training or education needed to come back and start a career," Davis said.
Dupont Pioneer attended the job fair again this year after fulfilling much of its summer hiring needs for the company's breeder seed program during last year's event.
"We hired over 50 percent of our workforce for in the fields from here," said Matt Quilter, Dupont Pioneer production coordinator. High school students comprise the employees needed for the program.
Bladimir Molina, Dupont Pioneer research associate, said the main task for high school employees is de-tasseling or pulling the male – tassel – part from the corn plant and control pollination. He added that more students already knew about the company's opportunities this year and were ready to come work for the summer.
"This is also a great networking opportunity with other businesses," Christensen said. "It gives us an opportunity to see the challenges that other businesses face."
Educational institutions at the event were Perry Technical Institute, Eastern Oregon University, Oregon State University, Blue Mountain Community College and Walla Walla Community College.
Chelsea Snodgrass, Perry Technical Institute career services director, said this event and others like it are a good opportunity to continue the school's relationship with local employers and promote local jobs with students.
Donna Christensen, Tillamook Columbia River Processing human resources manager, said the event is an opportunity to show community support and let people know that Tillamook is one of many employers available at the Port of Morrow.