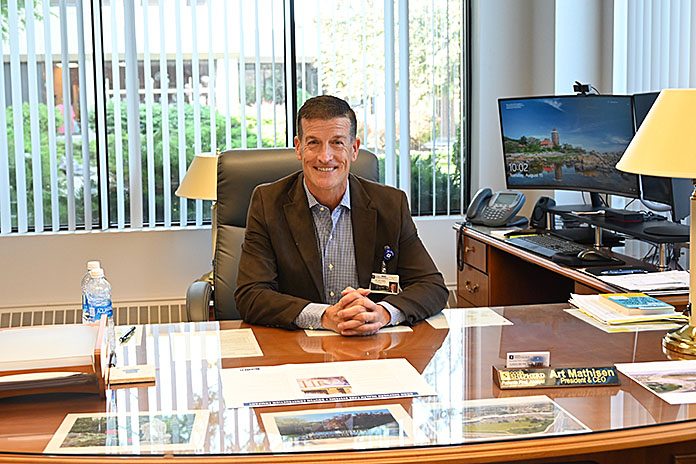 Shoveling two-and-a-half feet of snow off your roof in mid-April would be enough to drive a lot of people away from the snowy winters of New Hampshire and off to warmer and more welcoming locales.
That's sort of what happened with Art Mathisen, the new president and chief executive officer for Good Shepherd Health Care System.
"I did that every year for eight or nine years and finally thought it might be time for a change," said Mathisen during a conversation at the hospital on Tuesday.
Mathisen had been serving as president of Memorial Hospital in North Conway, N.H., before taking over as CEO of Good Shepherd on July 17, succeeding Interim President and CEO Emmett Schuster.
He was familiar with the Pacific Northwest, but not so much with eastern Oregon. The weather, said Mathisen, was better than expected.
"When you get 300 days of sunshine, that's pretty nice," he said.
Coincidentally, one of the recruiters working for Good Shepherd in its search of a new CEO was an old acquaintance of Mathisen's.
"He told me I ought to take a look and that I'd probably like it out here," Mathisen said. "That was a good sign. I believe in 'meant to be' things."
Mathisen began his career in 1992 in the Army as an enlisted infantry soldier. After an honorable discharge, he returned to college earning a public management degree in 1996 from the University of Maine, and an active-duty commission as a second lieutenant in the Army as a Medical Service Corps officer. Mathisen later earned a graduate degree in Health Care Administration from Baylor University in 2006 and became a Fellow of the American College of Healthcare Executives (FACHE).
After a 20-year military career, Mathisen retired in 2014 and joined Bon Secours Health System in Suffolk, Va., serving first as a director and then as executive director of the Medical Group in Southeast Virginia. Prior to joining Memorial Hospital in 2019, he served as president and CEO of Copley Hospital located in Morrisville, Vt.
Mathisen said the toughest two years of his career came during the COVID-19 pandemic and the effects of it are still being felt by hospitals around the country – particularly the loss of personnel as many in the health care field decided to go in another career direction.
"That created a strain on hospital and staff," he said. "It was difficult to find temporary staffing and the demand was high. It created mental, physical and spiritual residual effects."
Mathisen credits his military career with teaching him leadership skills – a necessary quality when directing an organization as large as Good Shepherd.
"This is a very complex organization," Mathisen said. "There are roughly 1,200 or so people working at the hospital in one capacity or another. It's amazing to watch all those people working in synchronization to deliver world-class health care."
Mathisen can also indirectly credit the Army with his passion for triathlons which began in 1999 when he was at Fort Lewis, Wash.
"Another Army officer, Guy Lemire, was in the local Fort Lewis paper for competing in the Ironman Hawaii World Championship," he said. Mathisen got in touch with Lemire and met him for coffee.
"The rest is history," he said.
Since then, Mathisen has competed in 20 Ironman distance races, seven of which were the Ironman World Championships in Hawaii. An Ironman contest consists of a 2.4-mile swim, 112-mile bike ride and running a 26.2-mile marathon.
These days, Mathisen competes primarily in half-Ironmans and takes part in races around the country each year.
Mathisen and his wife, Jen, have three adult children. He's been busy settling into his role as hospital CEO and community member. He went to the Farm-City Pro Rodeo on Friday and Saturday.
"I was really impressed by the crowd's support of the military and emergency personnel," he said. "Their support is on another level."
A hospital is a large and complex organization requiring hundreds of employees to carry out the myriad of tasks needed to make it run. Mathisen, however, simplifies the role of a hospital.
"We are a people organization taking care of people every day," he said. "We're judged every day by what we do."