The Hermiston Police Department implemented a two-officer unit on Tuesday, June 12 and the idea paid off immediately with the arrest of a Hermiston man on criminal mischief and drug charges.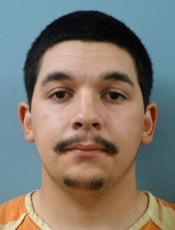 During the first night working together, officer Joyce Wright and detective Will Jons arrested Jesus Eduardo Magallanes, 545 N.E. Seventh St. #A, for his alleged involvement with graffiti at multiple locations. Magallanes was also charged for his alleged involvement with graffiti at a park back in March of this year.
Magallanes was charged with three counts of unlawfully applying graffiti, two counts of third-degree criminal mischief, second-degree criminal mischief, possession of less than an ounce of marijuana and possession of drug paraphernalia. Magallanes was processed at the Hermiston Police Department before being lodged at the Umatilla County Jail in Pendleton.
Hermiston Police Chief Jason Edmiston said the two-unit team was created with the goal of aggressively being proactive to criminal elements in Hermiston versus the traditional model of responding to calls for service.
"Now that summer is upon us, it is imperative we find ways to be as proactive as possible with the resources made available to us," Edmiston said. "This is yet another example of what our officers can do when they have time to focus on those persons who choose to engage in aberrant behavior."