Good Shepherd Medical Group (GSMG) has announced that Family Nurse Practitioner (FNP) Julie Hughes is welcoming new patients at the Good Shepherd Rural Health Clinic in Hermiston.
Hughes has been a practicing FNP since 1993 when she graduated with her Master's of Science in Nursing from Oregon Health and Sciences University in Portland. Since then, Hughes has been providing care in rural communities in Eastern Oregon. In addition to practicing medicine, she also seized an opportunity to teach the next generation of aspiring nurses at Blue Mountain Community College from 2001-2003.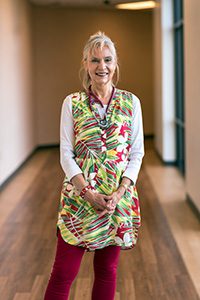 "I really enjoy teaching," said Hughes, "I integrate education into my practice when seeing a patient. If a patient still has questions at the end of their visit with me, I don't believe I have done a good enough job of educating them on their condition or treatment plan."
In addition to her education skills, Hughes prides herself on providing a comprehensive examination.
"I believe patients appreciate my thoroughness when addressing their concerns," she said. "I really like reviewing previous visits and learning a complete medical history. It's important for me as a provider to know as much as possible so I can make the most accurate diagnosis possible."
In regards to her scope of practice, she will mainly be available to see both male and female adults, but will also see children over five years of age as necessary, and will consult heavily with the Good Shepherd Pediatrics team as necessary. As for her bedside manner, Hughes brings an expressive aloha spirit to her practice since she spent her formative years in Hawaii.
"I want to prioritize with each individual their primary concern – essentially what brought them to see me today," she said. "Each patient should make sure they are prepared to discuss their medical history with me. Once we cover that and the patient feels satisfied with the diagnosis, I then address additional concerns if time permits. I'm friendly and bring that aloha spirit into my work. I enjoy having fun, I like to interact with my patients and joke with them if the situation allows."
Hughes enjoys spending time with her two Scottish Terriers, playing the piano for her church, and is a television true crime connoisseur.
Hughes is now welcoming new patients Wednesday through Friday at the Good Shepherd Medical Group Rural Health Clinic located at 600 NW 11th Street in Hermiston. To schedule an appointment call 541.567.3505 or visit online.