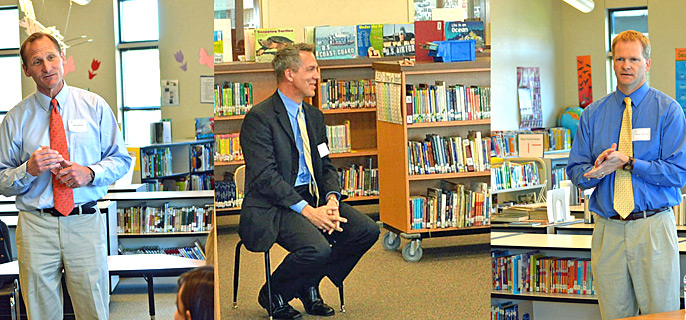 The 2013-14 school year is just around the corner, and for three local educators, the first day of school will be one of change.
The Hermiston School District welcomed three new principals to its ranks on July 1: Kevin Headings, Michael Roberts and Brad Bixler.
Headings, the move to West Park Elementary is only 5.2 miles from his former job as an elementary school principal and superintendent in the Stanfield School District.
"Working in Stanfield, I've already gotten to know all of the administrative staff in the district, and many of the initiatives are pretty much the same throughout our region," Headings said. "And my family lives in Hermiston, so we didn't have to move."
While the neighboring districts have much in common, the biggest difference between Hermiston and Stanfield is simple: size. West Park ended the 2012-13 school year with more than 620 students enrolled; the entire Stanfield School District had about 480 students. Stanfield Elementary had about 250 students.
"Both West Park and Stanfield really have a focus on students and what's best for kids and families, but I'm not going to assume by any means what would work in Stanfield is going to work at West Park," Headings said. "I think we need to work together to find what will work for West Park, to accentuate the positives and work on the negatives."
At the top of those negatives is West Park's designation as a "focus school" by the Oregon Department of Education.
"That was one thing that really attracted me to (this position), that challenge," he said. "We have a good staff, good teachers, so I'm looking forward to all of us working in the same direction and maybe in a few years being a premier school, maybe even a model school."
Headings has experience turning around troubled rankings – Stanfield Elementary made a slow climb from a "Low" rating in 2000 – one step above "Unacceptable" – to "Outstanding in 2012. Headings spent his first month on the job walking the building, making sure everything was in order and learning about the processes and protocols of a larger school district. He also scheduled 30-minute meetings with every staff member.
"I'm very excited about working with teachers, building relationships with students and families," Headings said. "I'm really looking forward to it."
While Headings is making a short geographical leap from Stanfield to Hermiston, Bixler's move will take him a little further: 27.4 miles from Pendleton High School to Highland Hills Elementary. Bixler served five years as assistant principal at Pendleton High before accepting the position at Highland Hills in Hermiston.
The longtime educator used the first month as an opportunity to learn more about the Hermiston School District.
"The first month is a time to learn about the organization flows in Hermiston, to meet administrative staff and support staff and to start meeting with teachers," he said last week. "It's working very well."
Bixler's career led him to teaching in both elementary and middle schools alongside his wife, who is also a teacher. The family moved to Pendleton in 1991.
"It was a combination of the climate and the size of the area," he said of the relocation to Eastern Oregon. "My wife and I both come from areas that are rural and we were interested in a similar area. We raised our family on the eastern side of the state."
A former fifth-grade teacher, Bixler said he had hoped to return to elementary education and is thankful Hermiston has given him that opportunity. Returning to an elementary setting also brought Bixler a learning curve for the new school year: familiarization with state testing and accountability requirements at the elementary level.
"That's the bulk of my prep work, but there's no hesitation or nervousness," he said. "I'm very excited about a building that seems to be in very good mechanical order, staff ready to hit the ground running."
At Desert View Elementary, new principal Michael Roberts also said he is excited about working with staff and students. Although he comes to Hermiston after five years as assistant principal of Housel Middle School in Prosser, Wash., Roberts is familiar with Hermiston's past and rapid growth.
"I grew up in the area, and the amount of growth in the last 20 years in Hermiston is really shocking. It's an exciting time to be here," he said. "I'd come back and go 'Wow, it's changed a lot' then go away and come back and say 'Wow, it's changed even more.' "
Like Bixler, Roberts is taking on an elementary principal role for the first time and said the reputation of the Hermiston School District really drew him home.
"Before I applied for the position, I talked to several people who were familiar with the district. They all had glowing things to say, so that encouraged me to apply," he said. "The district's really lived up to its reputation as being a really supportive place. If anything, it was understated how supportive everyone has been. Everyone is willing to help, and that's a good surprise."
Over the summer months, a typical day for Roberts involves learning the building and staff as Desert View, as well as the programs and processes of the Hermiston School District. It's been a busy summer of preparation and the start of the new school year is just a week away.
"It's going to come fast, but the whole reason that we do this job is to support students," he said. "The school always feels a little lonely until the kids get here. Once the kids get here and we really get going with things, it will be quite a bit of fun. I'm really excited to be at Desert View."