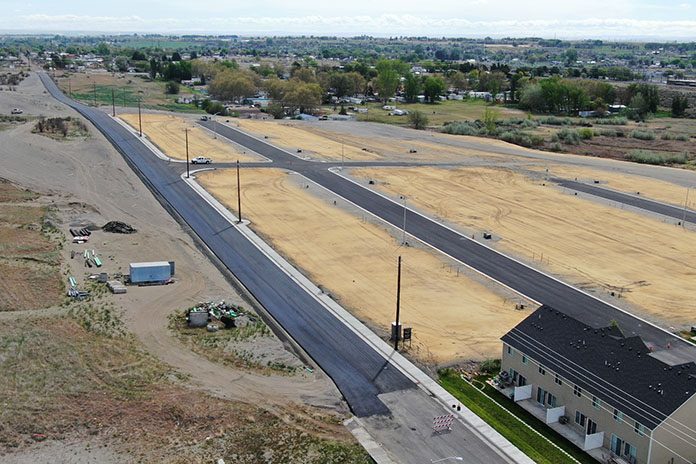 East Theater Lane will soon re-open as a fully paved road, the latest project in the Capital Improvement Plan that will unlock housing development potential in northeast Hermiston.
Paving of the center lanes between 8th and 10th streets was funded through franchise fees and the state gas tax to serve the needs of existing traffic. The wider asphalt and sidewalk on the south side of the road were paid for by the in-progress housing development.
Crews continue to finish some concrete work and striping, and the road will re-open to traffic as soon as that work is complete.
The paving of Theater Lane's travel lanes creates an incentive for other potential private sector developers by reducing the cost to connect to the road and sidewalks. Theater Lane also borders Hermiston School District property where a new elementary school will be constructed and the extension will lower the cost of developing that property as well.
"Housing development has been a top goal of the city council for many years, and the combination of this road, the new water tower, and the future school is the foundation of a great Hermiston neighborhood," said Hermiston Mayor Dave Drotzmann. "It will allow Hermiston to grow in a sustainable way by leveraging public investment to meet existing needs which will stimulate private investment to pay for our future growth."
The paving project, combined with water system upgrades in the area, has already attracted private development in the Cimmaron Terrace subdivision.  As a result of that private development, city staff worked to coordinate a public-private partnership between the city, the developer, and the Hermiston School District, to ensure that sewer services were extended at the same time as the paving.
"We now have very visible water infrastructure and street improvements in that area, but the equally critical unseen third portion of this is the sewer infrastructure," said Mark Morgan, assistant city manager.  "By coordinating the school district with Cimmaron Terrace, we were able to save both significant costs by allowing them to install necessary sewer in Theater ahead of our paving.  This now means that we have all urban-level utilities almost a half-mile further out into our Urban Growth Area, which will make housing development substantially more affordable in the future."
Even with a delay caused by the coronavirus construction shutdown, the paving project was completed earlier than originally planned after the city council approved combining the scope of work with the nearby water tower. The road is a 25 miles per hour zone and will become a school zone once the elementary school opens.
The Capital Improvement Plan was first approved by the council in 2017 and is a long-term roadmap of street, water, and wastewater projects that require significant capital investment.