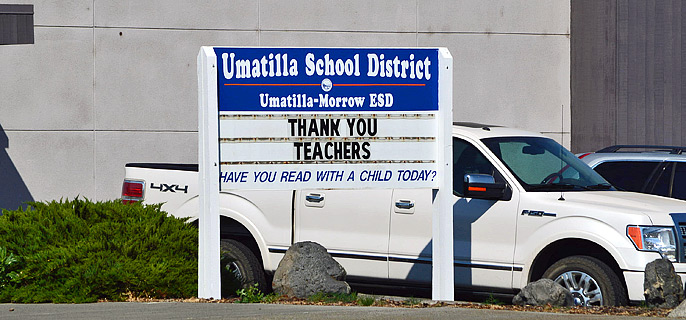 In a time of budget constraints for many districts, no layoffs or program cuts are planned for the Umatilla School District.
According to Umatilla District Superintendent Heidi Sipe, Umatilla will instead see a $700,000 increase in its budget for the 2013-14 school year.
The Umatilla School District Budget Committee approved the proposed budget during a meeting on Tuesday; the Umatilla School Board will consider adoption at its June meeting.
"The $17 million dollar budget will serve as a fiscal map for the coming year," Sipe said in her 2013-14 Budget Message. "The budget was developed based on financial estimates and data available at this time. Should funding figures fluctuate, expenditures will need modification to allow for balanced spending within the budget guidelines"
For the 2013-14 school year, officials estimate spending $17,668,559.59, an increase of $711,166.84 from the 2012-13 budget. Most of the funding – $9.97 million – will come from the state school fund, and taxes will provide about $1.3 million, bringing the total for the General Fund, the bulk of the budget, to a little less than $13.5 million.
In addition to the General Fund, the budget also includes a number of 'special funds,' including federal programs, which receive funding and expenditures based on each fund's specific requirements.
Expenditures also represent debt-service funding for long-term financing. Those expenses include $825,000 toward a construction bond for Umatilla High School and not quite $300,000 for bonds taken when rates escalated because of the shortfall in the Public Employee Retirement System, better known as PERS.
A $2 million estimate carryover from the current school year rounds out the 2013-14 budget. The district set aside that funding as part of a planned strategy to adjust for mandatory PERS increases.
The state of Oregon has continued to increase PERS contributions, and employee costs – including salaries and benefits – will claim 77 percent of the district's General Fund budget this year.
"Purchased services," such as utilities and transportation costs, take up about 12 percent of the General Fund, and 5 percent of the fund is dedicated to supplies.
The budget does include a $600,000 contingency fund the district can use for emergencies or as a carryover to help start the 2014-15 budget.
But while the news on the current budget front is good, Sipe pointed out a dark cloud on the horizon: For the first time in a number of years, the Umatilla School District is facing declining enrollment.
"While we were shielded from major economic impact this year, if our numbers continue to decrease, we may need to make adjustments for the 2014-15 school year," Sipe said.