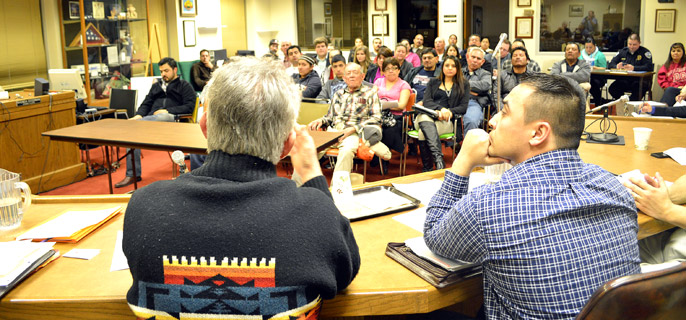 More than three dozen citizens listened intently Monday night as members of the Hermiston Hispanic Advisory Committee took up an issue that's received a lot of attention lately – mobile vendors and the city's efforts to regulate them.
And just as the Hermiston City Council found at its Feb. 25 meeting, the HAC is finding little about the issue that is cut and dried.
"This is a difficult and complicated issue," said HAC member George Anderson, who also sits on the Hermiston City Council. "Ordinances have been proposed and sent back and a whole new study is going to start."
City staff had originally drafted a set of proposed regulations regarding mobile vendors which included permits that would allow vendors to locate in one spot for no more than 180 days before having to find a new location. The Hermiston Business Advisory Committee, however, later recommended that be cut to 90 days. Another regulation proposed that permits allow vendors only in commercial zones, but councilors indicated during the Feb. 25 meeting that vendors should be allowed in industrial zones, as well. The meeting ended with City Manager Ed Brookshier asking city staff to take a stab at another set of proposed regulations that encompasses suggestions from the city council.
At Monday's meeting, HAC member Virginia Garcia suggested establishing a single space in town from which mobile vendors could operate. An audience member liked the proposal, but suggested the location be in a central part of town.
Garcia also said she understands where opposition to mobile vendors is coming from. She said she has spoken with owners of restaurants who are facing difficulty making ends meet and who feel it isn't fair that they face steep monthly expenses that mobile vendors do not.
"They are struggling to pay their bills," Garcia said. "It's a difficult issue."
Anderson, while expressing general support for mobile vendors, said there needs to be regulations in place to even the playing field.
"There's a whole body of land-use and building code laws out there and they are all being circumvented by these mobile venders," he said.
Anderson said the community will get a chance to give their input on the issue before any regulations are enacted, but said opponents of mobile vendors would have their say, as well.
"There will be some hearings where you can express yourself," said Anderson, addressing the mobile vendors in the audience. "But there are people who don't like you and they will have the same chance to speak. It's a two-way street."
HAC Chairman Eddie de la Cruz said the issue has become a political one and each side deserves to be heard.
"You have to have a fair process and give everyone a fair hearing," he said.
Hermiston resident Ken May said any regulations that are put in place will not be aimed just at taco trucks.
"It's everything," he said. "It's the mobile vendors selling stuffed animals, flowers and flags. It's the farmer selling produce out of the back of his truck. It's an issue that goes across the board."