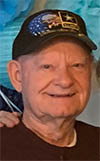 Norman Frank "Norm" Eppenbach went home to be with his Savior and Lord Jesus Christ on Oct. 31, 2021 surrounded by his children at his home in Umatilla at the age of 82.
He was born on Feb. 10, 1939 in Warroad, Minn. to Elbert and Rachel (Faye) Eppenbach.
Norm was the second oldest child out of eight siblings, four boys and four girls. They lived on a farm in Minnesota and from a young age he worked hard, helping with daily chores that consisted of taking care of animals and younger siblings. When he was 12 years old he moved with his family to Oregon in hopes of his dad finding better employment opportunities. They eventually settled in Irrigon, where Norm and his brothers helped their father build the family's home.
Norm was drafted into the Army in 1962 and became a medic. He went through training in Texas but was never deployed overseas. After his time in the military, Norm went home to Irrigon and worked as an equipment operator and truck driver.
During his free time Norm enjoyed spending time with his family, traveling and singing gospel music with the family group, The Good News Singers, working on cars, and eating carrot cake.
Norm met the love of his life, Janice Marlow, when he was a young boy. Both Norm and Jan's families attended the Irrigon Baptist Church. The families shared close friendships and from there, Norm and Jan grew a bond that would later develop into an everlasting love. They were married in February 1965. They had three children, Mark, Lisa and Melissa, five grandchildren, and one great grandchild. They were married for 55 years before Jan went home to be with Jesus in April 2020.
While Norm and Jan were both known for their hard work as employees, willingness to help and serve in the local church and kindness to others, those who knew them best knew them for their love of Christ and their love for each other.
A family graveside service will be held at Desert Lawn Memorial Cemetery, Irrigon.
A celebration of life gathering for both Norm and Janice will be announced at a later date.
Please share memories of Norm with his family at burnsmortuaryhermiston.com.
Burns Mortuary of Hermiston is in care of arrangements.