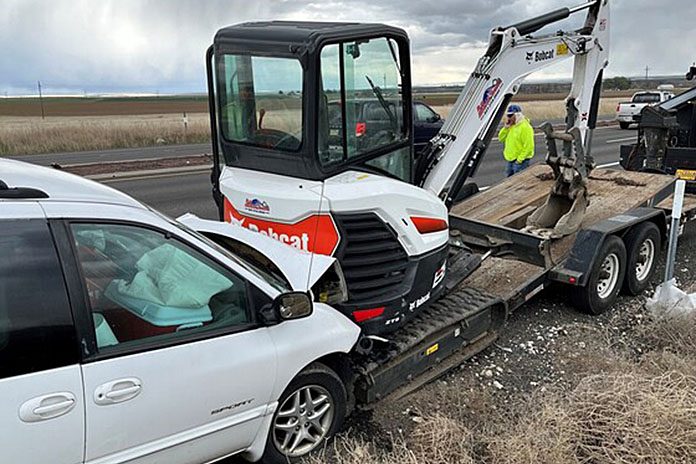 An Oregon Department of Transportation employee was injured in a work zone Wednesday afternoon when a minivan crashed into the excavator he was unloading.
The ODOT worker was transported to Good Shepherd Medical Center in Hermiston where he was treated for minor cuts and scrapes and released a short time later. The minivan was towed from the scene.
The crash took place shortly after 1 p.m. on U.S. 395-A at milepost 9.8, north of Stanfield. At the time of the crash, the worker's trailer truck, loaded with an excavator, was parked on the shoulder. The worker was unloading the excavator, preparing to do sign work, when a minivan traveling south hit the excavator.
Oregon State Police, ODOT and other emergency responders assisted at the crash site.
The accident, ironically, took place during National Work Zone Awareness Week, April 17-21.
ODOT said the crash is a harsh reminder for drivers to slow down, move over, and be extra vigilant around work zones.
To keep work zones safer for everyone, drivers must:
Pay attention and focus on the road. Driver inattention is a major factor in work-zone crashes.
Obey speed signs. Speed limits may be reduced to keep you and workers safe by giving drivers more time to react.
Move over. Work zone traffic lanes often are narrow, without shoulders or emergency lanes. Workers need room.
Plan ahead. Give yourself enough time for your trip — including possible work zone delays. Before you start, call 511 or visit TripCheck.com for the latest road conditions and work-zone information across Oregon.
Remember that fines double in all Oregon work zones, whether workers and signs are present or not.