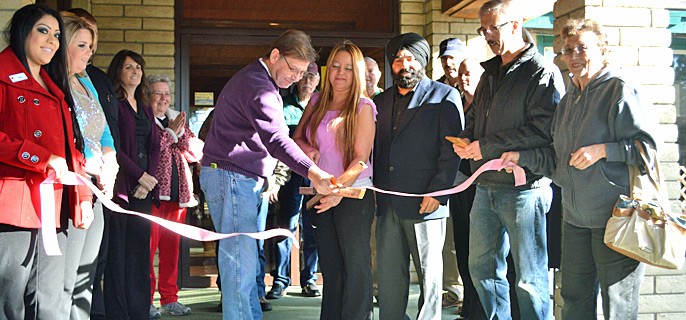 The Desert River Inn in Umatilla was showing its age when its owners closed it down a year ago. Now, under new ownership and a new name, the restaurant is open once more and looking like new.
"I don't think it had a facelift since it opened in the 1970s," said Paul Halachis, who serves as a consultant to owner Catalina Villa. Prior to opening the Village on the Green last month, Villa and her partners repainted the interior, put up new pictures on the walls and put in a new menu.
"We brightened up the mood and made it a clean, family business," Halachis said.
The restaurant features what Halachis calls American and international comfort food. The menu includes chicken alfredo, pot roast, baby back ribs, a comprehensive salad bar and old-fashioned meatloaf, among other items.
"We want people to enjoy fresh, wholesome foods," he said.
On Thursday, the Umatilla Chamber of Commerce hosted a grand opening for the Village on the Green.
"We want to welcome you to the neighborhood," said Chamber President Dave Meade.
Villa said the reaction from the public has been positive since the Nov. 22 opening.
"All the customers have been so happy," she said.
The restaurant features a couple of banquet areas – the larger one can seat 160 people and the Club House can seat about 65.
The restaurant currently employs 10 people, but Halachis said as many as 30 people will eventually be employed.
The restaurant's bar and lounge will open in a couple of weeks and will feature two pool tables and a league-quality dart board. Video poker will be available in a couple of months. The restaurant's location – next to the Big River Golf Course and the motel which will soon be a Quality Inn motel – makes for a great location for both local residents and travelers.
"We strive to give every guest the best experience," Halachis said.