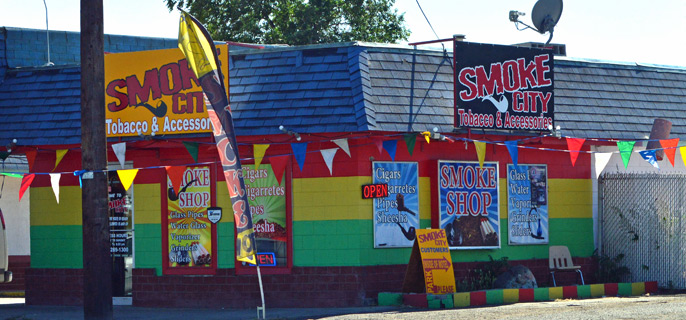 Smoke City has been in business in Hermiston for about a year. After Monday night's Hermiston City Council meeting, however, it's unclear how much longer it will be in business.
The council passed an ordinance Monday making it illegal for any business to sell drug paraphernalia within 1,000 feet of a school. Moe Jaber, who along with his wife owns Smoke City, says he does not sell drug paraphernalia. He does sell glass pipes, water pipes, bongs, hookahs and grinders, along with various types of tobacco. And while the products he sells are commonly used by marijuana smokers, Jaber says his products are for tobacco use only. He has signs throughout the store which read, "For Tobacco Use Only."
His business is located at 425 N. First St., well within 1,000 feet of Sunset Elementary School.
Jaber says he has no control over what people do with the products purchased at his store. If someone uses a water pipe to smoke weed, well, Jaber says, that's out of his control.
"You can go to Home Depot and buy some glue and sniff it to get high," he says. "What is a knife used for? To cut up food, right? Who's fault is it if someone uses the knife to kill someone?"
The ordinance Hermiston passed Monday night is in addition to an ordinance already on the books banning the sale of drug paraphernalia. The latest ordinance specifically addresses the sale of drug paraphernalia near schools.
"This ordinance is a bit of a redundancy," said Hermiston City Manager EdBrookshier, referring to the already-existing ordinance outlawing the sale of drug paraphernalia. "This calls out that activity taking place close to schools."
Brookshier said the newest ordinance came about when the city became aware that there was interest in opening a smoke shop directly across the street from Hermiston High School, behind Domino's. That inquiry, it turns out, was from Jaber, who wanted to re-locate Smoke City.
Jaber, who also owns Express Car Audio on South Highway 395 in Hermiston, owns another smoke shop in the Tri-Cities. He says he has never had any complaints about his business. He says if there was a problem with the products he sells at Smoke City, someone should have told him before he opened his business in 2012.
"For six months before I opened for business I had signs outside advertising what I sell," he says. "Nobody says anything."
That's changed. The city's position is that Jaber is in violation of the city ordinances.
When asked what action, if any, the city will take against Smoke City, Hermiston Police Chief Jason Edmiston did not specify.
"We will consult with the business," he said.
Jaber said he has invested between $50,000-$60,000 in his business and if he is forced to relocate, he'll be seeking compensation.
"If they want to give me $60,000 – fine, I'll move," he said. If forced to shut down, he said he would hire a lawyer and sue.
Brookshier said Hermiston's ordinance is in line with similar state statutes banning the sale of drug paraphernalia.
"If we didn't feel we had statutory authority, we wouldn't be making this move," he said.