The American Rescue Plan Act (ARPA) is expected to provide Oregon with approximately $2.6 billion in discretionary federal recovery funds for state needs.
How much of that will go toward special districts, such as the Umatilla County Fire District #1? At this point, nothing and Fire Chief Scott Stanton isn't too happy about it.
"The governor likes to talk about equity, but I don't see any equity when special districts are getting nothing," he said.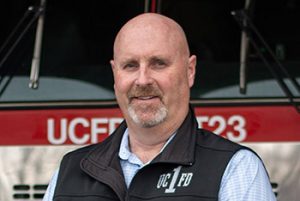 Data from the Special Districts Association of Oregon show these special districts have forecasted $562.3 million in impact throughout this year due to the pandemic. More than half will reduce essential services and one third will reduce their frontline workforce should funding not be allocated.
Stanton isn't alone in decrying the lack of money coming to special districts, particularly when they received $25 million a year ago to help pay for COVID-related expenses.
"Nearly every Oregonian relies in some degree on special districts for their critical local infrastructure and essential services related to water, sanitation, fire protection, emergency medical services, transportation, soil and water conservation, parks, libraries and more," said Frank Stratton, executive director of the Special Districts Association of Oregon.
Of the $25 million carved out for special districts last year, UCFD #1 received $250,000. Much of that was spent on personal protection equipment (PPE) and sanitizing supplies.
"We go through masks, gloves and other PPE like crazy," he said. Stanton said firefighters have no choice but to potentially expose themselves to COVID when on an emergency call.
"We're the frontline workers," he said. "We go in where COVID exists." He said it takes an extra 30 minutes after a call for firefighters to go through the decontamination process.
"Some of our guys take six, seven showers a day, depending on how many calls we get," he said.
Stratton said special districts are especially critical in disadvantaged rural communities, many of which rely almost entirely on special districts for their basic municipal services.
"During this time, many districts have issued moritoriums on shutting off water, wastewater, sanitation and other utility services," he said. "Recreation, park and library districts, which operate largely on programmatic fees and rental charges, have been forced to close their doors. Soil and water conservation districts are unable to perofrm contract work. First responders and frontline public servants with fire protection districts, health care districts and county service districts . . . faced increased risks with limited personal protection equipment."
Time is running out for special districts to get COVID-related funding. The 2021 Oregon legislature has only a week or so to change course and commit allocations from the state's share of federal ARPA funds.
Rural districts have banded together to ask for a five percent allocation, amounting to a one-time $130 million allotment.
Stanton, who will be installed this week as president of the Oregon Fire Chiefs Association, said he worries about the fall and winter when COVID rates are likely to spike.
"We know our COVID rates will go up and we have nothing extra to pay for all the extra supplies we're going to need," he said. "Without any extra funding, we'll probably have to dip into our contingency fund."