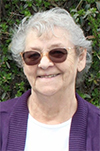 Paula Mae Crowell died peacefully on Dec. 16, 2021 in the home she loved in Stanfield surrounded by her family at the age of 81.
She was born on Oct. 27, 1940 in Le Mars, Iowa to Albert Joseph Determann and Valora Josephine Arens Determann (later remarried to George Rainboth).
In 1950, Paula's mom moved her and her brother, Larry to Joseph. Mary K. stayed in Iowa with her father. This would be where she met her husband, Ralph at a town dance in Joseph, and was married in Lewiston, Idaho on Jan. 2, 1958 at the age of 17. They were married 54 years until Ralph passed in 2012.
Paula lived with her husband in Imnaha in the first four years of their marriage, while he supported his family working on ranches. She would have to go outside and up a hill to bang on the generator once in a while to get it working for their electricity. She washed the clothes outside in a big wash basin. They lost their home to a house fire that resulted in the family moving to the Buttes for a short time, where she cooked for the ranch hands, and again Ralph was still ranching. They then moved into town to Enterprise. With her family of six, sons Mike, Terry and Doug and daughter Ronda, they eventually moved to Stanfield in September 1966, when Ralph took a job on a local ranch for Irvin Manns. When her youngest son, Doug, started school, Paula took a job as an assistant cook under her mentor and eventually best friend, Merna Long. What Merna taught her is how she became a legend in the school kitchen in the Stanfield School District. Merna also taught her to be the wife and mother she became so loved for. Before becoming head cook, she also was a substitute janitor for the Stanfield grade school. She cooked for the grade school and junior high school for 30 years before retiring. Students who attended her schools still remember her and to this day will comment that her food was some of the absolute best around, especially her homemade bread, cinnamon rolls, and maple bars.
In the year 2000, Paula decided to go to night school and get her GED. She was so proud, as we were of her.
Paula loved gardening, both vegetables and flowers. She inherited that love from her mom and grandma. She passed that passion on to her children. She was also known for her creative nature. Prior to her stroke in 2003, Paula was a master at hand-painted wooden decorations with tole painting (which her family treasures and covets). She also enjoyed making cards with her family and friends (the divine order of the tah dah stampinghoods). In addition to her artistic nature, Paula was a creative problem-solver akin to MacGyver, even going so far as to create a tumbleweed snowman for her granddaughters when there was no snow for Christmas.
In her lifetime, she was able to become a mother of three sons, Mike, Terry and Doug, and daughter Ronda. She was given three beautiful daughters-in-law, Sheryle, Lisa and Kara, and a son-in-law, John. She was the proud grandmother of 14 grandchildren, 12 great grandchildren, one great-great grandson, and numerous nieces, nephews and cousins. Each and every one had a special part in her life. She was proud of each and every one. She was envied among her friends with all her family that surrounded her with love and care. She felt very spoiled and knew how much she was loved by all of them. She never missed an opportunity to babysit those grandchildren and great grandchildren all the way up to the last year of her wonderful life. She learned to love Sponge Bob, Blues Clues and Paw Patrol and was caught watching Fancy Nancy when she was all alone. She played Nintendo with her grandkids and made them a cheat sheet to get to the upper levels.
Paula always instilled wisdom in her children, grandchildren, and great grandchildren. She passed down values such as family comes first; do your best at whatever you do; never quite a job without having a better one to go to; the door is always open; everyone is welcome at the table (just add more water to the broth and toss in an extra carrot or potato) and not one was turned away; make the most of every opportunity; get an education and be self-sufficient;
put your raise into savings and don't live outside your means; and you are entitled to nothing but the opportunities before you.
Holidays were a huge affair for Paula and her family. She hosted annual Easter egg hunts for her grandchildren and great grandchildren and a family party every Christmas Eve, always with the Christmas music playing away. She created traditions such as an Easter bonnet contest, scavenger hunt, gift exchange, and cookie decorating. These traditions have been passed down to newer generations of family and will continue even without her at the helm.
Three years ago, Paula obeyed the gospel of Jesus Christ and became a child of God through baptism. God added her to the Church and she worshiped at the Westside Church of Christ in Hermiston.
Paula left her earthly body to go to her heavenly home on Thursday, Dec. 16, 2021 in her home of 50 years in Stanfield with her family about her. She left behind her brother, Larry Determann; three sisters, Donna McIver, Debbie Haglund and Jeanne; her step mom, Kate Determann; and a large, loving family and a legacy of love and togetherness that will live on through her children, grandchildren, great grandchildren, great-great grandchildren; and numerous nieces, nephews and cousins. She will be greatly missed, but she will carry on through each one.
She was preceded in death by her husband, Ralph; father, Albert Determann; mother, Valora Rainboth; stepfather, George Rainboth; and sister, Mary K. Jacobsma.
A celebration of Paula's life was held on Saturday, Jan. 8 at the Westside Church of Christ, Hermiston.
Burial will be at a later date at Pleasant View Cemetery, Stanfield.
Please share memories of Paula with her family at burnsmortuaryhermiston.com.
Burns Mortuary of Hermiston is in care of arrangements