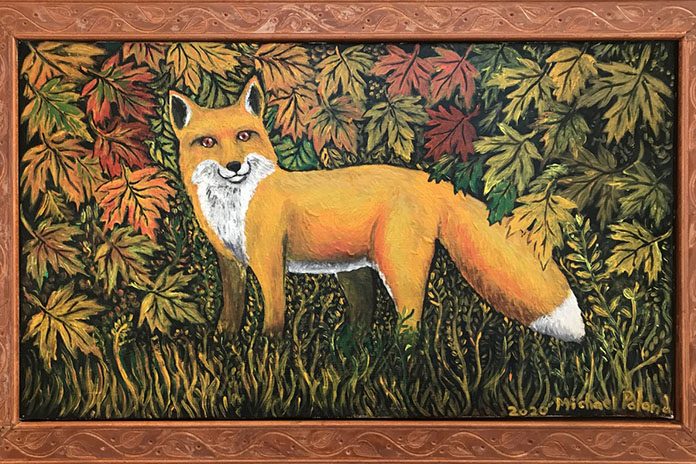 The 50th anniversary of the Open Regional Exhibit at the Pendleton Center for the Arts attracted not only a record crowd but the largest number of entries in the 22 years the event has been held at the renovated Carnegie building.
On Thursday, March 9 judge Judith Baumann handed out $1,000 in awards, selecting 10works from the 174 submissions for recognition.
The Best of Show went to Walla Walla painter Dale Hom for his piece Chinese Pioneer Series: Dragon Dance on the Metal Road. The vivid palette and confident brush strokes combine in the piece to illuminate the story of Chinese pioneers in a powerful way.
Dalton Mauzay of La Grande took home the Adult First Place award for his piece Coloring Inside. In speaking about the piece Baumann noted the use of colored pencils, not as a mark-making tool but as a sculptural element, which added an intriguing layer to the work.
Walla Walla County & Tools of the Trade by Twila Johnson-Tate of Waitsburg, Wash., was recognized with adult second place and Ascension, a turned wood sculpture by Scott Bartholomew of Pendleton received adult third place.
Honorable mentions were awarded to Walla Walla artist Katy Rizzuti, and Pendleton artists Cindy Sullivan and Michael Poland.
In the teen category, Lucas Long of Pendleton received first place for his drawing Howl's Moving Castle. In talking about the piece, Baumann noted how it was clear from the mastery of the pen lines that the artist had been drawing for a long time.
Leo Reeves of Pendleton was awarded second place for his ceramic work Sea Slugs, and Pendleton teen Summer Wildbill received third place for her painting Donut.
The mediums featured in the exhibit include textiles, glass, metal, paper, and resin, alongside painting and pencil work. Several artists on exhibit are displaying their work in public for the first time.
"The Open Regional Exhibit is such an important tradition," said PCA Executive Director Roberta Lavadour. "This year's awards show that it truly is a regional event. We're proud that it attracts participation from across northeast Oregon and SW Washington and this year the diversity of art forms and points of view makes it a truly fun exhibit to experience."
All the Opening Night awards are made possible through the support of Banner Bank of Pendleton. The Jacqueline Brown People's Choice Award will be presented on the last day of the exhibit, Friday, April 28, to the work that garners the most votes from visitors to the gallery. That award is made possible through the support of the Picken/Brown family.
Admission to the exhibit is free and open to everyone. More information is available by calling 541-278-9201 or online at PendletonArts.org.