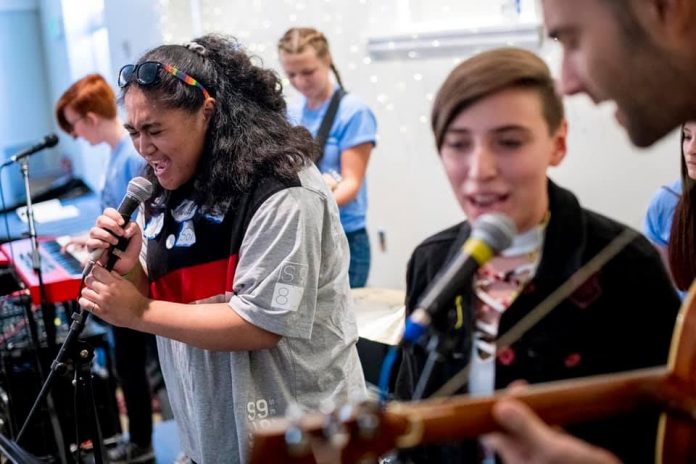 The free Rock & Roll Camp sponsored by the Pendleton Center for the Arts reaches an important milestone this year.
"I can't believe Rock Camp is old enough to drive!" quipped Camp Director Addison Schulberg, who has attended camp each of the previous 15 years and looks forward to having teens back in person this 16th year.
Rock & Roll Camp XVI will take place Aug. 9-13 at the Pendleton Center for the Arts building on Main Street. The camp provides teens 13-18 with a free week of music instruction from 9 a.m. to 4 p.m. Some students put together bands, working with musicians from West Coast indie bands to focus on getting better at their instruments (or learning to play) and writing and performing original music. Other campers spend the week on rock journalism. On Friday, all the bands perform at the big camp concert on Main Street. Students who aren't performing help with concert logistics and band promotion.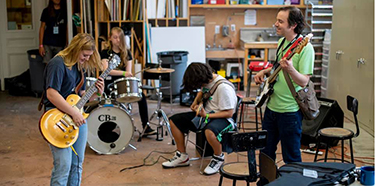 "There are so many facets that go into making music and being creative," says Schulberg. "It's cool that one student can work on bass guitar, another can figure out how to work a clarinet riff into a song, and another can work on a camp blog, not playing an instrument or singing at all."
PCA provides guitars, ukuleles, and other instruments for those who want to learn something new. No previous music experience is necessary, and students don't need to reside in Pendleton or Umatilla County to participate.
Students and parents can get information about the free, week-long offering at PendletonArts.org. Since students work in close proximity to one another indoors, and singing is an integral part of the activity – and with COVID numbers are rising in the county – all campers need to be fully vaccinated to participate. PCA staff is looking for ways to accommodate unvaccinated students at an outdoor location and will post information online if alternative accommodations do become available.