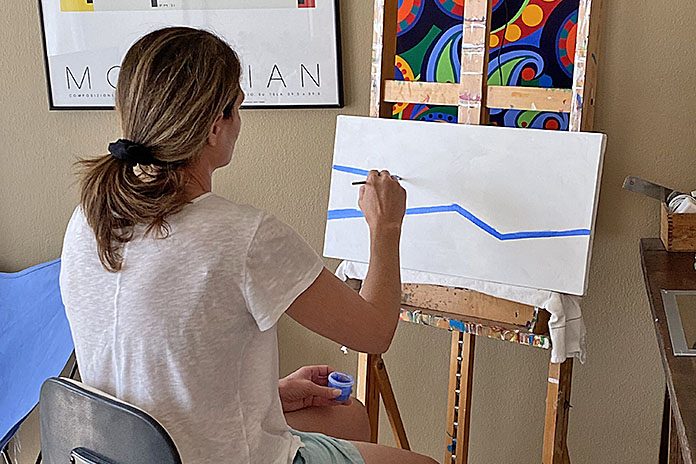 Pendleton artist Sarah German took up painting because it was more portable than the sculpture she originally pursued at University of Montana.
"I quickly realized that it takes a lot of space and equipment to be a sculptor, especially as a young person living in shared houses and moving a lot," she said. "I started painting because it was something I could do at home and was very mobile. All you need is an easel and paint."
German's paintings are featured in a solo exhibition, Sunset Abstractions, in the Lorenzen Gallery at the Pendleton Center for the Arts through Oct. 6. Admission is free and open to the public.
The notable thing about the paintings are the hard lines that surround each color field on the canvas.
"I am fascinated by the way that colors interact, the way that color can spark emotional response. I think I'm drawn to the hard lines and solid colors as a way to maximize the effect colors have on each other," she said in a recent interview. "Every painting feels like an experiment, testing how shape and color can create emotion."
She uses heavy body acrylics and then thins them to various degrees to get the viscosity she's looking for. She uses long round brushes, and occasionally sign painters' brushes, so that she can paint long straight lines, and makes several layers in pursuit of the intensity of color she's seeking. She might work on a small painting for a couple of weeks, and the large paintings often take months to complete. Most viewers assume that German uses a straight edge or other tool to get the hard lines, but they are simply the result of skill with the brushes, repetition, and patience.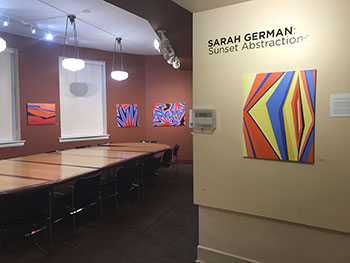 In addition to the impeccably straight lines, the works are notable for the vivid, bold palette.
"I love all colorful art, from Van Gogh and Matisse, to Mexican folk art and cartoons. I'm a fan of anything that's vibrant," she said. "When I was a kid, Mondrian was my favorite. I have the framed print I got for my 13th birthday on my studio wall today."
German developed her current style after experimenting with a range of mediums, including watercolors and tempura and oils. She's worked in a more classical painting style with acrylic as well, even doing the standard copying of master works that art students are encouraged to do.
While the paintings appear at first glance to be simple color fields and patterns, the titles, almost all versions of the word "sunset," provide another layer to the work.
"Sarah's work is the perfect example of powerful abstract art," said PCA Director Roberta Lavadour. "It's not random or arbitrary, it's using form and color to illuminate something in a more essential way. The longer you look at them, the more you come to know the essence of the setting sun."
The exhibit is made possible through the support of the members of the Arts Council of Pendleton. More information is available at pendletonarts.org or by calling 541-278-9201.