Loree McKenna is perhaps best known in Pendleton as a talented cellist, but back in 1970, after graduating from San Francisco State University with a degree in cello performance, she began creating tapestries. She started with hand-sewing, but when a sewing machine later became available to her, she took advantage of it.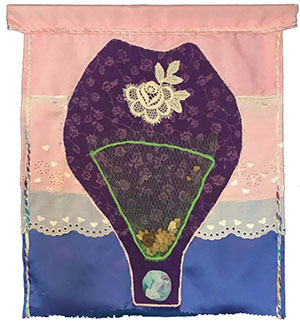 "I am fascinated by and love the multitude of colors and textures of cloth that are available from all over the world," explained McKenna.  "I wanted to touch and play with them. That's why I chose tapestries as a creative medium."
An exhibit of 27 of her works will be on display in the Lorenzen Board Room Gallery at the Pendleton Center for the Arts April 9 – May 29. The event is free and open to the public, and guest can call 541-310-7413 to schedule a visit.
McKenna differentiates tapestries from quilts by their purely artistic presence and their delicacy.  She uses colored yarns and embroidery threads to outline and sew the edges of her collage-like compositions.  The tapestries were made to be a component of a larger event which she calls Inner Journey.  Because of this, the tapestries are not for sale.
Loree has lived in Pendleton since 1971, teaching cello privately and in the schools, as well as playing in area orchestras.  She retired in 2019.
More information is available by calling the Pendleton Center for the Arts at 541-310-7413 or online at PendletonArts.org.