Judith Baumann is well-known as the Master Printer for Crow's Shadow Institute of the Arts, where she collaborates with artists from across the country and around the world.
But her own work, created under the imprint Renegade Cascade Editions, is prominent in the printmaking community and has been exhibited in group, juried, and solo exhibitions across the country.
In June her work will appear in the East Oregonian Gallery at the Pendleton Center for the Arts alongside work by three artists who Baumann selected as some of the best in the printmaking field. Certain Informalities: Works by Judith Baumann, Marwin Begaye, Kristin Sarette and Michael Sonnichsen opens on Thursday, June 1 with a reception from 5:30 to 7 p.m.
The event is free and open to the public.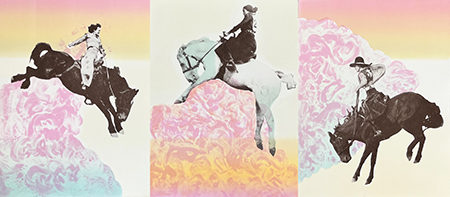 While each of these artists approach printmaking in drastically different ways, the works resonate with one another through the exploration of color, form, and repetition. Begaye, Sarette, and Sonnichsen reside in Oklahoma, New Mexico, and Idaho, respectively, sharing a common link of connection with  Baumann, who curated the exhibit.
"It's all just based on color and form and repetition and printmaking as a medium," said Baumann. "I love the materiality of Mike's work. Christin's work explores abstract color theory, and Marwin's large scale bird studies integrate traditional Navajo patterning. The pieces together showcase diverse methods of thinking about and making prints."
Baumann has taught printmaking and drawing at several institutions, most notably The Evergreen State College from 2005-2014 and Northern Arizona University from 2015-2017. She has lead numerous workshops all over the country, including The Sitka Center for Art and Ecology in Oregon, Washington State University in Vancouver,  The University of Alabama in Huntsville, and Murray State University in Murray, Kentucky. She is the 2005 recipient of Virginia Museum of Fine Art Professional Fellowship Award in Printmaking.
Begaye is an Associate Professor of Painting and Printmaking at the University of Oklahoma's School of Visual Arts, his research has been concentrated on issues of cultural identity, especially the intersection of traditional American Indian culture and pop culture. His work has been exhibited nationally across the U.S. and internationally New Zealand, Argentina, Paraguay, Italy, Siberia, and Estonia. He has received numerous awards, including the Oklahoma Visual Artists Coalition Fellowship, First Place at the Red Earth Festival, Best in Category in Contemporary Painting at the Gallup Inter-Tribal Indian Ceremonial, and Best of Category in Graphics at 2015 Santa Fe Indian Market.
 Sarette was born and raised in the mountains of central New Hampshire. She is a graduate of Tamarind Institute, where she received the bulk of her education in collaborative lithographic printing. She holds a BFA in Printmaking from Plymouth State University and an MFA in Printmaking from Indiana University.
Sonnichsen spent the first seven years of his life in Puerto Rico, snorkeling, collecting ocean glass, and exploring rain forests. The qualities of tropical light and color snuck into his consciousness yet lay somewhat dormant until he began architecture school. It was there he discovered printmaking as an outlet for his process and color sensibilities. After studying lithography at the Tamarind Institute, he pursued his MFA at the University of New Mexico. There he began experimental color photogram work in earnest, refined his printmaking craft, created light driven sculptures, and accumulated substantial collections of plastic toys and household objects. He currently teaches in the Art + Design Program at the University of Idaho.
On Saturday, June 3 Baumann and Begaye will host a free screen-printing demonstration from 2-4 PM at the Pendleton Center for the Arts. Guests will be invited to print their own takeaway.
The exhibit will be on view through June 30, and admission is free. The exhibit and events are made possible through the generous contribution of Coldwell Banker Farley Company, a locally owned firm that has been dedicated to providing support for artists through the PCA exhibit series.
More information is available online at PendletonArts.org or by calling 541-278-9201.