If photographers in the region are looking to get their images in front of a top-notch curator of contemporary photography, this year's Open Regional Exhibit, hosted by the Pendleton Center for the Arts, is where to be.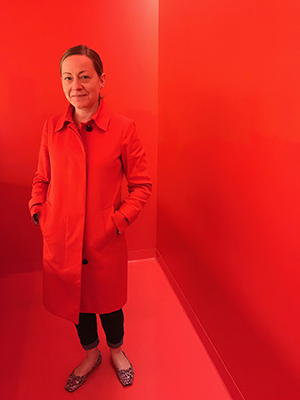 Julia Dolan, the Minor White Curator of Photography at the Portland Art Museum, will be studying each entry in this year's exhibit and awarding a total of $1000 in prize money, contributed by Banner Bank of Pendleton.
"This year's exhibit is going to be a little different, so we wanted to make it extra special," said Executive Director Roberta Lavadour. "Having Julia get to see the work of our local and regional artists is a real treat."
After more than 47 years in of the Open Regional being hosted in various locations in Pendleton, this year's event will be held in cyberspace.
"Before the library was renovated into the Arts Center, the Open Regional Exhibit was held at BMCC, the old Armory (now Convention Center) and other spots," said Lavadour. "Having it online this year makes sense for keeping our artists and patrons safe, and it just feels like an extension of the way we've adapted in the past. And, it's helped us to engage a judge who is usually too busy to make the trip to Pendleton to see the framed work on our gallery walls."
Since 2010, Dolan has curated and co-curated more than 40 exhibitions at the Portland Art Museum including Hank Willis Thomas: All Things Being Equal… (2019-20), Contemporary Native Photographers and the Edward Curtis Legacy: Zig Jackson, Wendy Red Star, Will Wilson (2016), Representing: Vernacular Photographs of, by, and for African Americans (2017), and Blue Sky: The Oregon Center for the Photographic Arts at 40 (2014).
She received a B.F.A. in photography from the Maryland Institute College of Art, an M.A. in art history from the Pennsylvania State University, and a Ph.D. in art history from Boston University.
The deadline for entries is Sunday, May 31, and the winners will be announced Thursday, June 6 at 5:30 p.m. with a Judge's Critique broadcast on the Arts Center's website.
"We're hoping that our regular Opening Reception-goers will celebrate at home during that time as we all watch the event simultaneously," said Lavadour. The PCA staff even reached out to the Great Pacific Wine and Coffee Company, which regularly provides refreshments for the Opening Reception events, and they will be offering Open Regional Reception Kits with various wines, cheeses, chocolates and other nibbles that can be picked up before the evening event. The public will be able to view all entries at pendletonArts.org through June 30 and submit their votes for the Jacqueline Brown People's Choice Award.
The event is open to teens 13-17 and adults 18 and up who reside in Northeast Oregon and Southeast Washington. Entry information is available at pendletonarts.org and more information is available at director@pendletonarts.org or by calling 541-310-7413.