The First Draft Writers' Series is returning to the Pendleton Center for the Arts as a ZOOM-based offering tonight, Dec. 17 at 7 p.m.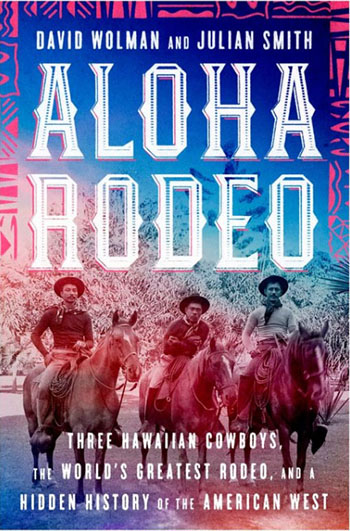 Journalists David Wolman and Julian Smith, both of whom have published work in some of the country's most high-profile publications, will read from their book Aloha Rodeo. The book won the Oregon Book Award for 2020 and was on the NPR list of best 100 books.
In August 1908, three unknown riders arrived in Cheyenne, Wyo., their hats adorned with wildflowers, to compete in the world's greatest rodeo. Steer-roping virtuoso Ikua Purdy and his cousins Jack Low and Archie Ka'au'a had travelled 3,000 miles from Hawaii, of all places, to test themselves against the toughest riders in the West.
Dismissed by whites, who considered themselves the only true cowboys, the native Hawaiians would astonish the country, returning home champions — and American legends. An unforgettable human drama set against the rough-knuckled frontier, Aloha Rodeo unspools the fascinating and little-known true story of the Hawaiian cowboys, or paniolo, whose 1908 adventure upended the conventional history of the American West.
Those wanting to attend the event via ZOOM are asked to email director@pendletonarts.org before noon, Dec. 17 to receive an invitation. There will be spots for up to 10 attendees to read from their own 3-5 minute original works during Open Mic. Those not familiar with how to use ZOOM may attend a one-hour Introduction to ZOOM class offered Tuesday, Dec. 15th for free. More information is available at pendletonarts.org or by calling 541-310-7413.