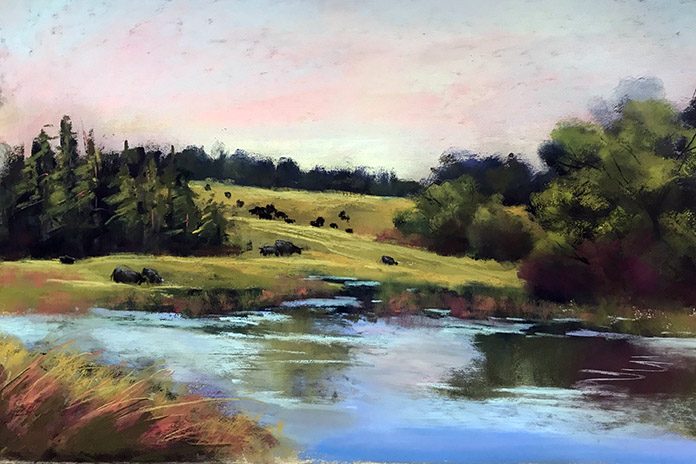 Artist Bonnie Griffith's exhibit Pure Color opens at the Pendleton Center for the Arts on Thursday, Sept. 6 with a reception from 5:30-7:00 p.m. The event is free and open to the public.
Griffith paints the western landscape using the rich pigments of pastels and oils. Working in a representational yet impressionistic approach, she tells a story with her paintings; one that will resonate with the viewer from their own viewpoint.
"I am drawn to these mediums because they allow my best representation of the landscape with the brilliant pigments creating texture, light and mood in my paintings," she said. "My goal is to create works that draws the viewer in; allowing them to use their senses to experience the time of day, the warmth or coolness, the message of the painting – for themselves, to merely 'get lost' in the work, experience it and make it their own. If that happens, then I have done my job."
Griffith grew up in north central Montana on a ranch near the Missouri Breaks. Early on she experienced the rugged country, the big skies, the vegetation of this landscape mostly from the back of a horse. Memorable childhood vacations included trips to Glacier Park to enjoy the sharp contrasts of the landscape from central Montana. These trips continued through the years and painting some of the views of the park has been part of those experiences. Her parents were ranchers; her mother a talented visual artist; her father a musician. Art appreciation came early and studying the effects of light on the landscape and the colors were imprinted deep. She declared at an early age that she was an artist and that carried through along with a career in the medical arena until she began painting full time in the mid-1990s.
Griffith has studied with several instructors such as Lorenzo Chavez, Robert Moore, Ned Mueller and others in developing her work.
"My work turned the proverbial corner once I started painting seriously from life," she said. "You learn to see better, to capture light accurately and express yourself differently when working from photos. I do studio work as well, often with the aid of plein air studies."
The artist is a current resident of southwestern Idaho and spends significant time painting in Montana and Utah throughout the year. She participates in numerous plein air events in the western U.S., judges competitions and offers workshops in pastel techniques, both studio and plein air. Her work is represented by galleries across the western states. Collectors include corporate and private throughout the U.S., Canada and Australia. Bonnie's work can be seen on her website bonniegriffith.com, Instagram – @bonniezahngriffith and her Facebook page Bonnie Griffith Landscape Artist.
Free admission is made possible through the support of McLaughlin Landscaping. More information is available at pendletonarts.org or by calling 541-278-9201.