New leadership has taken the wheel at Pendleton Fire & Ambulance.
Pendleton's former assistant fire chief, Anthony Pierotti, stepped into the fire chief role on Nov. 1, and this week, the department welcomed its new assistant chief and fire marshal, Valorie Tomren.
Pierotti said the duo is adjusting to their new roles and just starting to plan for the future. He said having Tomren on board as fire marshal will allow them to increase the focus on community outreach and education.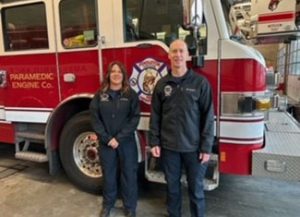 "One thing I do know is we're looking to expand the community risk reduction area. That's going to be our big push," Pierotti said. "We are just getting started, so we're going to get our feet under us. That being said, we're going to keep running calls, keep our crews training and healthy."
Pierotti came to Pendleton from Tucson, Arizona. He worked for 21 years at the Tucson Fire Department before moving to Pendleton four years ago to become the assistant chief under Fire Chief Jim Critchley. When Critchley retired at the end of October, Pierotti stepped into the head role. Pierotti said he is looking forward to continuing the system of training and leadership he and Critchley started.
"We have a great community here, and Jim (Critchley) and I were able to set a new system in place for the department over the past four years that has made a ripple effect around the community. I'm really excited to be able to keep that going," he said.
Tomren will help Pierotti with that momentum. Pierotti said he first met Tomren through training in the Airport Rescue Firefighting (ARFF) program. Tomren oversaw that program out of the Tri-Cities and has assisted in training many of Pendleton's firefighters.
"We've been working with Valorie for a couple years, and she's going to do a great job here," Pierotti said. "She's got a great personality, a good demeanor, and I'm excited for her to start interacting with the community in that fire marshal role."
Tomren grew up in Ronald, Wash., a small community near Cle Elem. She started her firefighting career in the Army Reserves and has spent 25 years with the fire department for the city of Pasco. Tomren said she was going to retire in June but coming to Pendleton gave her an opportunity for growth and the ability to be part of a good department wanting to grow its Prevention and Community Risk Reduction program.
"Sometimes you need a change in order to grow," she said. "I really like that it's a smaller department. I'm going to learn the community, learn the people that I work with, and then go from there."
Typically, a fire marshal focuses on inspections and investigations, especially in arson cases. Pierotti said Tomren will handle those duties as well as community risk reduction. She will promote safety information, craft safety tips and draft social media messaging.
"She's going to be the face of the fire department when it comes to community risk reduction," he said. "People think of the fire department as fighting fires and running EMS. We're also education, getting CPR classes out, getting safety messages out, helping our elderly population if they have trouble with falling. We're going to try to revise and expand what people think of the Fire Marshal as. I'm excited about that."
Learn more about Pendleton Fire & Ambulance at https://pendleton.or.us/fire.