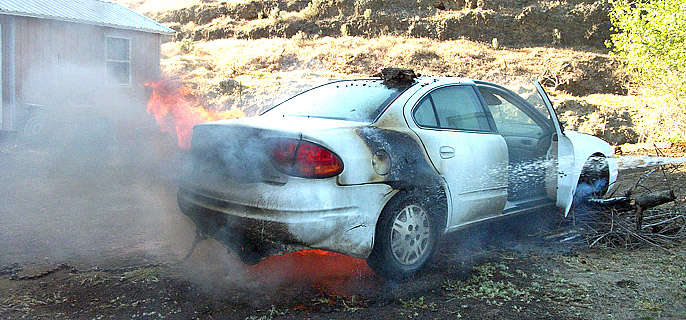 A Pendleton man faces a host of charges, including a felony, after leading an Oregon State Police trooper on a 50-plus-mile chase that didn't end even when he crashed his vehicle.
The chase began at 5:14 p.m. on Wednesday when an Oregon State Patrol trooper from the Pendleton area command attempted to stop a white 1999 Oldsmobile Alero on Interstate 84 at milepost 206 for passing other vehicles on the right shoulder and speeding at 115 mph.
The driver of the vehicle, Zechariah I. Ayers, 27, from Pendleton, failed to stop and proceeded to attempt to elude troopers for 36 minutes and more than 50 miles until he crashed his vehicle on private property off of Highway 37 at milepost 8.5.
His vehicle caught fire after the crash and Ayers fled on foot. A passenger in the vehicle remained with the vehicle and cooperated with troopers. Ayers was soon caught by troopers, arrested and lodged in jail.
Ayers was charged with reckless driving, reckless endangerment, felony attempt to elude in a vehicle, misdemeanor attempt to elude on foot, failure to perform duties of a driver, and second-degree criminal mischief.
With the help of the property owner, troopers and deputies were able to quickly pull the burning vehicle out of the brush and into a gravel lot where it burned preventing the fire from spreading to the brush.
Pendleton area troopers were assisted by Umatilla County Sheriff deputies and the residents at Cold Springs Ranch.