One week after the shooting death of a 23-year-old Umatilla man, no arrests have been made, but persons of interest have surfaced, according to Hermiston Police Chief Jason Edmiston.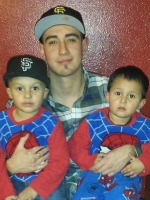 The Hermiston Police Department and members of the Umatilla-Morrow County Major Crime Team continue to actively investigate the murder of Alonso Madrigal, who was shot in a neighborhood behind the 11th Street Market in Hermiston.
Edmiston said the investigation is progressing, but acknowledged it's moving slower than he would like.
"Unfortunately we have to play with the hand we are dealt," he said Wednesday. "(The case) is still progressing because of the hard work and long hours members of the team are putting in."
The chief said a significant amount of people have been interviewed by detectives about their knowledge or potential involvement with what transpired on the night of March 4 and leads are still being followed based on those interviews.
"There are people of interest that have surfaced in the investigation, but it is still very premature to release any additional information regarding them," Edmiston said. "I wish I could release more information as I am distinctly aware of the tremendous amount of resources we and other agencies have dedicated to this investigation but we have to weigh the integrity of the overall investigation with that of public knowledge."
Edmiston said because of the slow flow of information coming to investigators, detectives are "turning over every stone to determine relevance."
The chief said if anyone has any information about the case, they should call Cpt. Travis Eynon at 541-667-5103.