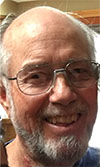 Peter "Pete" Strawick passed away on April 25, 2021 from heart complications at the age of 84.
He was born Peter Abbott in Ontario, Windsor, Canada on July 14, 1936 to Erwin Abbott and Marguerite Chappus Abbott.
He took his step-father's last name when the family moved to Spokane, Wash., where he developed a love of camping, fishing and hunting. He graduated from Lewis and Clark High School, and after a sports injury ended his college scholarship at Central Washington University, he became a United States citizen and enlisted in the Army and was stationed in Alaska for two years, surviving a plane crash.
Pete was a gifted storyteller and a true "people person." He led a colorful, unique life and was many things, including an athlete, salesman, entrepreneur, philanthropist, pilot, and a golf professional. Golf was Pete's true passion. In 1983 he founded The Gatlin Brothers' Senior Golf Classic (later renamed The Champions Classic), an annual event through 1985, which was the first ever PGA stop in Reno, Nev. and included a benefit concert. He also spent a year competing on the Senior PGA tour.
He considered Hermiston his home, where he lived many happy years with his beloved Dee. There they owned Kik's Golf Center, and eventually he created a junior golf program, teaching many young people to golf. His friends and family knew him as generous, outgoing and caring. As one friend said recently, "He gave himself to everyone."
He is survived by his children, Kristi Morton (Cliff), April Spangler and Lisa Laskey (Kim); his sisters, Elly Chestnut, LaVerne Christenson and Marty Abbott; and nine grandchildren, Ren, Mel, Ryan, Gunner, Skylar, Grant, Gage, Shea and Addison.
He will be laid to rest next to his love, Deanna "Dee" Strawick (Bellinger) at Hermiston Cemetery in a private interment.
In lieu of flowers, go to the golf course and play 18 holes or hit the driving range. Pete would love to be remembered while playing golf.
Burns Mortuary of Hermiston is in care of the arrangements.