Phyllis Joy Wunduke died Wednesday, May 1, 2013 at her home in Umatilla at the age of 89.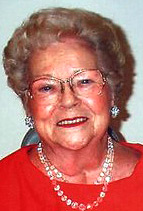 She was born Jan. 27, 1924 at Omaha, Neb., to Phillip Ray & Lillie Gertrude (Patzel) Reeves. She was raised in Omaha and worked as a "Rosy the Riveter" during World War II, also as a cook, waitress and owned restaurants in Omaha and Anaheim, Calif. She was married to Alfred Hawman and Robert Joseph Cullen (both deceased) from which she had three lovely daughters. She then married William "Bill" Wunduke on July 23, 1960 in Anaheim. Phyllis was a member of the Catholic Church and the Umatilla Hospital Auxiliary. Phyllis lived life with a passion. She was an artist, a gourmet cook, and a master gardener.
She and Bill enjoyed many years together and loved to travel from Alaska, to Europe, to Hawaii, to Mexico and all over the United States.
Phyllis was very proud of her large, close knit family.
She is survived by her husband of almost 53 years, Bill of Umatilla; Daughters, Beverly Jean (Walter) Gibson of Pendleton, OR, Cindy Lou Weise of Warrenton, and Susan Joy (Joseph) Ponish of Kennewick, Wash.; Sister, Lillie Knudsen of Omaha, Neb.; 10 Grandchildren; 20 Great-grandchildren; 2 Great-great-grandchildren; many nieces & nephews.
She was preceded in death by her parents and brothers, Phillip & Andrew Reeves.
Recitation of the Holy Rosary will be held on Monday, May 6, 2013 at 6 p.m. at Burns Mortuary Chapel in Hermiston. Mass of Christian Burial will be held on Tuesday, May 7, 2013 at 11 a.m. at Our Lady of Angels Catholic Church in Hermiston. Burial will follow at the Hermiston Cemetery.
Memorial contributions may be made to Martha's House (Domestic Violence), 305 SE Fourth St. Hermiston, 97838.
Please send condolences at burnsmortuaryhermiston.com
Burns Mortuary of Hermiston is in care of arrangements.