Good Shepherd Medical Group (GSMG) has announced that Matthew P. Carlson, D.O., has joined the Gifford Urgent Care (GUC) team of physicians.
Carlson comes from Nevada where he previously served at Touro University in Henderson, Nev., as a Family Physician in the Touro Clinic and as an associate professor in the Department of Primary Care. He was the assistant director of the Family Medicine residency program at Valley Hospital Medical Center in Las Vegas, and served part-time as an emergency department physician at Boulder City Hospital, in Boulder City, Nev.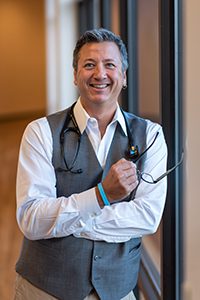 While pursuing a bachelors degree in English for secondary education, Carlson moonlighted as an EMT and went on to become a full-time paramedic. Yet, he felt there was still more he had to contribute. After discussing his desire with a respected mentor and his wife, Carlson decided to become a physician and pursued a degree in Osteopathic Medicine from Touro University, College of Osteopathic Medicine, in Henderson.
Moving to Nevada from Virginia was quite an adjustment for this equine family. "My wife competes in Three Day Eventing, which was a common sport in Virginia," he said. "In Nevada, we had to travel long distances to horse trials. There seems to be a lot of opportunity in the Pacific Northwest for eventing competitions which were definitely a draw for our family when finding a place to put down roots."
In addition to their equestrian pursuits, Carlson has many avocations including being a film enthusiast.
"Film can be a looking glass into society at the time a movie was produced," he said. "I really enjoy reading the screenplays and analyzing it from the writers perspective – determining what their beliefs and life experience have been that would make them contribute to society with film as a medium into their world. It gives us a textual reflection into the era it was created in."
As a physician, Carslon worked in many diverse settings and with experience caring for patients throughout the whole continuum of care. As a doctor of osteopathic medicine, Carlson is trained in and will practice Osteopathic Manipulative Medicine (OMM) with urgent care patients who meet the criteria.
Carlson emphasizes that "OMM can benefit many urgent care patients who seek our care for headaches, respiratory issues, back pain, leg pain – anything musculoskeletal, earaches, sore throats, and sinus drainage – to name a few. By applying the Osteopathic principles and OMM, I use the interrelatedness of function and structure to facilitate healing and remove the hurdles to bringing the body back to its natural state of health." He will also care for the full range of urgent care injuries and conditions including but not limited to fractures, sprains, burns, cuts and lacerations, urinary tract infections, pink eye, rashes, diarrhea, minor abdominal pain, and other urgent but not emergent symptoms.
Good Shepherd Health Care System President & CEO, Dennis E. Burke said the addition of Carlson will increase access to primary and urgent care services.
"Dr. Carlson will help build on the Gifford Medical Center and Urgent Care's strong legacy of providing high quality primary and walk-in care services for our community," Burke said. "Dr. Gifford has done an excellent job of recruiting and retaining physicians. As was our intent we are now in the process of bolstering the practice. With the ultimate goal of assuring that our community will have ample access to primary care providers and urgent care when they need it most and not be turned away or made to feel that they need to seek care outside of our community."
As for his bedside manner, Carlson lives by a simple statement.
"Find joy in those that seek my help," he said. "I learned this from a wise large animal veterinarian, who despite the inaudible nature of his work is still able to communicate and sooth an animal. This really made me think about the importance of humanity in the care I provide for my patients. I believe how I interact with my patients is of the utmost importance. Medicine can be scary for people, so I try to balance levity and seriousness, as the situation allows. My hope is to connect and put the patient at ease. Patients are burdened with their condition and many other intangibles that I cannot see and my job is about lightning another's burden while they're in my care."
Dr. Carlson is now welcoming patients at Gifford Urgent Care, located at 1050 W. Elm Ave, Suite 110, in Hermiston. Urgent Care hours are Monday through Friday, 8 a.m. to 6 p.m., and Saturday, 9 a.m. to 3 p.m. For more information, call 541-567-2995.