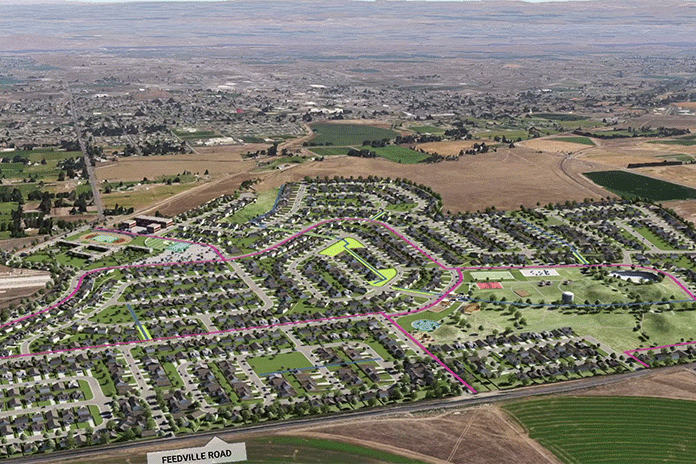 Plans are moving ahead for the development of a 353-acre housing development along Feedville Road following Monday night's Hermiston City Council meeting.
The council, acting as the city's Urban Renewal Agency, voted unanimously to move the development plan forward and begin seeking public comment and input from existing taxing districts.
The proposed development, formerly known as the Hayfields, but is now called Prairie Meadows, will be at the former C&B Feedlot. As many as 1,300 new housing units could be built over time with space donated by the developer for parks, trails, a food truck pod and other amenities. The developer, Luke Pickerill of Monte Vista Homes, will also donate land to be set aside for a future school and fire station.
Hermiston Assistant City Manager Mark Morgan said the land has sat undeveloped for many years due to the prohibitive cost of installing necessary utilities, which are estimated to be $9 million.
"I don't care how deep-pocketed a developer may be, that's a tough pill to swallow," said Morgan. "It simply needs public investment to drive the private investment behind it."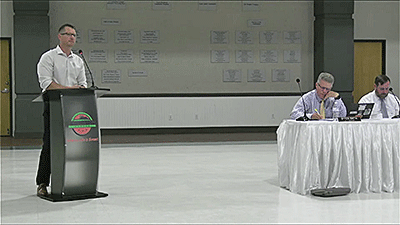 The most expensive component of the utility costs is related to water and wastewater utilities. The project will require construction of a 2-million gallon reservoir, 6,000 feet of transmission piping, and significant upgrades to the Joseph Booster to supply the reservoir. All told, the water improvements alone are estimated to cost $6,210,000. The plan also calls for installation of 5,300 feet of sewer main at a cost of $2,806,000.
A new urban renewal district – the South Hermiston Urban Renewal Agency or SHURA – is being proposed to help pay for the project.
The new district diverts the tax revenues from new development within the area to the Urban Renewal Agency, rather than allowing them to go to existing districts, like the city or county. That revenue is what is used to pay for projects and programs in the SHURA plan. But the Hermiston School District's recent bond, as well as Umatilla County Fire District #1's recent bond would not be impacted.
What is ultimately driving the effort is the need for new housing units in Hermiston, said Morgan.
Housing development has been a council priority every year since 2017, and during that time, nearly 600 housing units have been developed. So far in 2022, there have been 142 new housing units built.
"It's all about increasing available land so we can try as best we can to hold down the costs for housing developers and ultimately the homebuyers," said Morgan.
Pickerill said he plans to build housing units that vary in size and cost. He expects lots as small as 4,000 square feet with homes up to 1,400 square feet, and lots as big as 12,000 square feet with homes up to 3,000 square feet. He also plans to build multi-family units and senior housing.
"We definitely want to provide housing for the local workforce," he said.
The development will also include land for future commercial development, said Pickerill.
"We're basically building a town here that, in terms of population, is bigger than Stanfield," he said.
Between now and October, the plan will be open for public comment. The Hermiston City Council will hold a hearing on the project on Oct. 10 before voting on it at the Oct. 24 meeting.