Pulitzer Prize finalist and poet Don Colburn will headline the First Draft Writers' Series, hosted by the Pendleton Center for the Arts, on Thursday, Jan. 21.
The event will be held via Zoom and begins at 7 p.m. Anyone can request an invitation at director@pendletonarts.org.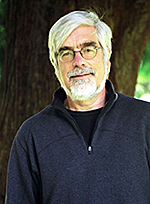 "To have community members who have moved away able to join us gave the December event the feeling of a happy reunion," said PCA Executive Director Roberta Lavadour. "Not only were people glad to see the faces of fellow local literary arts enthusiasts on their screen, we had long-time patrons from Portland and even Kauai join in."
Colburn is a longtime newspaper reporter who did not start writing poems until he was nearly 40. During a 33-year career as a reporter, he worked for four newspapers, including The Washington Post and The Oregonian. He is the author of five poetry collections, all published as a result of winning or placing in national manuscript competitions. His newest volume, Mortality, with Pronoun Shifts, won the 2018 Cathy Smith Bowers Chapbook Contest. His poems have appeared in more than a dozen anthologies and in numerous magazines.
Colburn happened to be on the flight that Captain Sullenberger landed on the Hudson River in 2009. His poem, In The Unlikely Event of a Water Landing can be found online.
In the past eight years PCA's First Draft Writers' Series has welcomed more than 75 nationally-known writers to the stage, including several State Poet Laureates and Pulitzer Prize winners. Local writers, including those just beginning, are invited to read their own 3-5 minute readings during Open Mic, following the featured author. The event is made possible by generous local donors. More information about the First Draft Writers' Series is available at pendletonarts.org or by calling 541-310-7413.