Poet Jack Lorts will be the featured reader at the First Draft Writers' Series, a program of the Pendleton Center for the Arts, on Feb. 18.
The Zoom-based event draws literary arts lovers from across the state, including many authors who've previously been featured readers themselves. The event starts at 7 p.m. and anyone can request a link by emailing director@pendletonarts.org.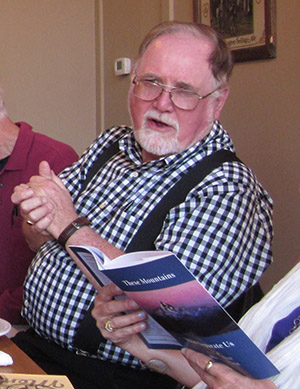 Lorts a self-described "ex-pat from Suburbia," has lived in Oregon small towns since the early 1970s. He holds a BA from California State University, Fullerton, (1962) and an M.Ed. from the University of Oregon (1978). He was a teacher for 26 years at the elementary and secondary levels, and a school administrator for 16 years, finishing his career as Superintendent of Schools in Fossil, Oregon, from 1997-2004. After retirement, he served on the Fossil City council, and from 2009-2015 as the city's mayor.  His writing has appeared widely over the past 50 years in such publications as Arizona Quarterly, Kansas Quarterly, English Journal and High Desert Journal. He's the author of three chapbooks, most recently Dear Gilbert Sorrentino & Other Poems.
Local writers, both professional and amateur, are invited to read their own three- to five-minute original work during Open Mic, which follows the featured author each month.
The First Draft Writers' Series is in its eighth year of bringing notable Northwest authors to Pendleton audiences. More information and a list of past readers is available at pendletonarts.org.