One week after fleeing police on motorcycle, a Hermiston man was arrested Tuesday morning after he was spotted in a local restaurant.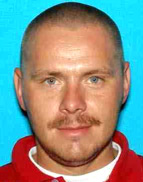 Gregory A. White, 28, was spotted in the lounge of a Hermiston restaurant by a citizen who then called the police. He was charged with eluding a police officer, reckless driving, first-degree criminal trespass, second-degree child neglect and unlawful possession of methamphetamine.
The arrest comes a week after Hermiston police received a call on Aug. 6 of two people riding motorcycles on Union Pacific Railroad property. When officers arrived at the scene in the area of North First Place and West Geer Road, they saw a man and a young boy riding motorcycles. The two took off when they saw police car lights flashing. According to the Hermiston Police Department, White fled the scene and the boy, White's 6-year-old son, lost control of his motorcycle near his home.
White was arrested Tuesday morning and lodged in the Umatilla County Jail. Four of the charges stem from the Aug. 6 incident. According to Hermiston Police Chief Jason Edmiston, he was charged with possession of meth after officers allegedly found the drug on him at the time of his arrest.