A father and 6-year-old son riding their bikes together is one thing, but when the bikes are motorcycles, that's another.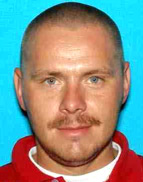 That was the case Tuesday when the HPD received a report of a small child operating a motorcycle near train tracks in the area of North 1st Place and West Geer Road.
Officers arrived at the scene around 3:35 p.m. and attempted to speak with an adult male and young boy, who were both on motorcycles on Union Pacific Railroad property.
According to Hermiston Police Chief Jason Edmiston, the two fled when an officer turned on the overhead lights of the police vehicle. The 6-year-old boy crashed his motorcycle a short distance from his driveway where he lives, while his father, 28-year-old Gregory A. White, 32392 W. Columbia Lane, continued to flee at a high rate of speed, according to Edmiston, who added that the father may not have known his son crashed.
Officers took the boy into protective custody and later released him to his mother, who returned from work to her residence. Edmiston said officers were able to later reach White by phone.
"But he refuses to meet with us for fear of going to jail," Edmiston said. The police are currently seeking White's whereabouts. Edmiston said he expects White to be charged with eluding a police officer, reckless driving, first-degree criminal trespass and second-degree child neglect. White, who has two previous arrests to his record, is described as 6'1", 185 pounds with brown hair and hazel eyes.
"We may not always put out a release on people we are looking to arrest, but the incredible lack of responsibility on display during this act trumped any past practice," Edmiston said. Anybody with information on the whereabouts of White is encouraged to call the Hermiston Police Department at (541) 567-5519.