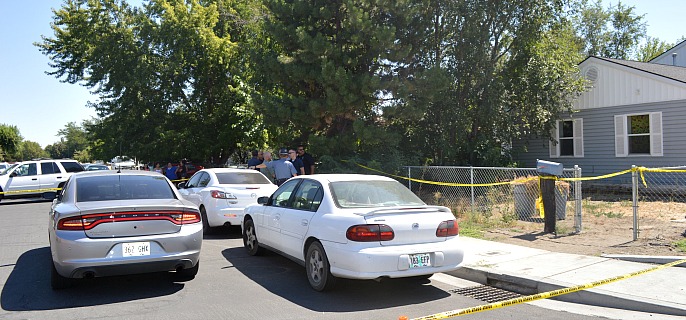 The Hermiston Police Department released a timeline of the events leading to the murder-suicide in Hermiston on Aug. 18 that left three people dead and another seriously wounded.
According to Hermiston Police Chief Jason Edmiston, the events of that morning began around 10 a.m. when Jason Huston picked up JJ Hurtado at his grandparents' house in Umatilla. He then drove the 14-year-old boy to a location near the Umatilla River just off Country Lane outside Hermiston. Edmiston said this was a place Huston had gone to with friends in the past to shoot guns.
Edmiston said Huston killed Hurtado with one shot from a handgun.
Between 11 and 11:20 a.m., Huston drove to Hermiston from the Country Lane location, parked his vehicle in the Foxwood Apartments parking lot, walked approximately 100 yards to 130 N.E. 11th St., the residence of Kenneth Valdez, 45, where Valdez and Andria Bye, 35, were sleeping.
After kicking in the front door, Huston entered the couple's bedroom and shot Valdez at least three times with a Glock 9mm handgun, said Edmiston. He then shot Bye once in the back. Huston then made at least two phone calls – one to his mother, who then called 911, and another to 911 to report a shooting at the location.
He then, according to Edmiston, sat down on the bed and shot himself.
Officers first arrived at the scene around 11:20 a.m. and forced their way into the Valdez residence. Paramedics then began treating Bye for her gunshot wound.
Edmiston said they are still awaiting crime lab analysis to confirm whether the gun used at the Valdez residence was the same gun Huston used to kill Hurtado.
"We have no reason to believe otherwise but it is important for us to confirm that," Edmiston said. "We are also waiting on any information we may be able to access on cell phones involved."
The chief said there are unconfirmed accounts from Huston's associates regarding his military involvement in the first Gulf War, as well as subsequent treatment from the VA.
"We do know an incredible amount of pills were discovered at Huston's residence," Edmiston said. "These pills, for things like depression and anxiety, appeared to be prescribed by the VA. We are navigating the red tape of the VA to try and glean additional information and we have no timeline on when that may take place."
Both Huston and Valdez were volunteer wrestling coaches at Hermiston High School. Hurtado was an incoming freshman at HHS.
Edmiston said the cause for Huston's actions on Aug. 18 remains a mystery.
"As I have said before, inasmuch as we want to learn the "Why," we may never get to a point where that is known," he said.