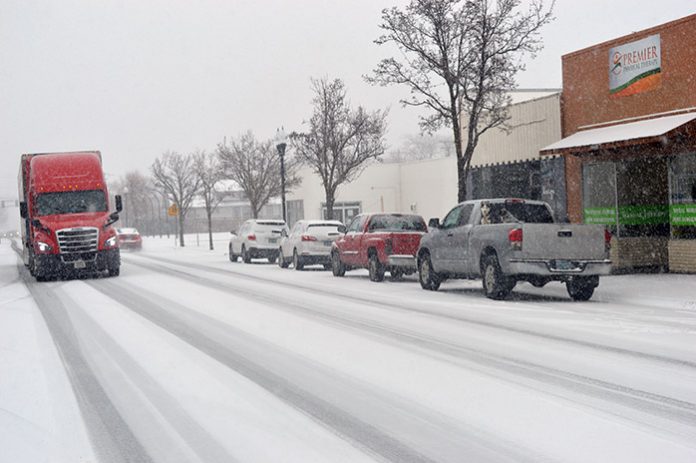 With several inches of snow falling on Monday, driving around town has been hazardous for some, according to the Hermiston Police Department.
Cpt. Travis Eynon said HPD officers responded to seven motor vehicle crashes on Monday.
"None of them involved any serious injuries," Eynon said.
Temperatures in the Hermiston hit the single digits early Wednesday morning and will remain below freezing over the next week and a half at least with more snow forecast to fall throughout much of next 10 days.
Eynon offered some advice to those who have to travel on the roads.
"Please drive slower than usual and plan to leave home earlier to accommodate for the slower commute times," he said. "If you do not have to drive in these conditions, please don't. If you are not comfortable driving in these conditions, please don't. It requires a bit of practice and experience."
Eynon said folks who drive four-wheel vehicles should not get a false sense of security.
"Driving a four-wheel drive vehicle may help you get going and have a bit more traction, but they aren't infallible," Eynon said. "Four-wheel drive vehicles do not brake any better than any other vehicle. If you have one, by all means, use it, but drive it sensibly."
Eynon also said motorists need to be cautious around intersections.
"They tend to get the iciest and therefore the slickest," he said. "Plan ahead for intersections and slow your vehicle far in advance of the intersection so when you do use your brakes for the final stop, you can actually stop rather than slide through the intersection and/or hit a vehicle for pedestrian."
For safety sake, Eynon suggested motorists carry with them the following items:
Snow shovel
• Broom
• Jumper cables
• Blankets
• Food
• Water
• Cell phone with charger
• An extra supply of any medications you take
"The snow is beautiful and can be fun," he said. "Enjoy it, but respect it and be safe with it."