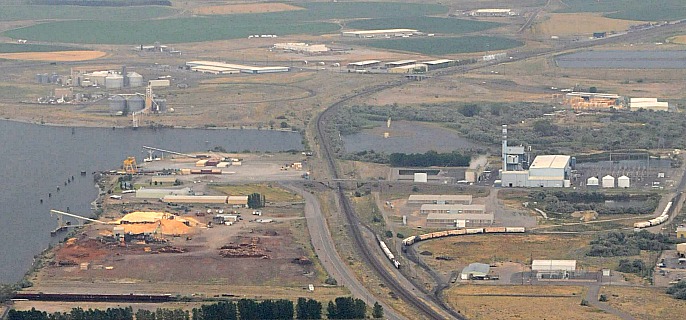 [quote style="2″]Grant Provides Nearly Half of Funding for Rail Spur, Facility[/quote]
The Port of Morrow is in line to receive $6 million in funding for a cold storage and rail transload facility from the Oregon Department of Transportation Connect Oregon V funding.
The funding's final approval depends on the Oregon Transportation Commission's decision.
The port will provide $6.1 million in matching funds to construct a 2,500-foot rail spur, including switches and a 100,000-square foot warehouse. The cold storage area will include 75,000 square feet of frozen storage space and the remaining 25,000 square feet will be refrigerated space.
Anna Aylett, communications specialist for the Port of Morrow, said the port's food processing tenants, including Tillamook, Boardman Foods, Calbee North America, ConAgra Watts Brothers and others, will benefit from the facility that will create or retain 385 jobs with an anticipated outcome of 150-200 million pounds of product in and out in the first year.
The project will include paved truck access, lighting and fencing in the port's East Beach Industrial Park. Aylett said the East Beach park has experienced significant growth since 2006 with $50 million invested in infrastructure improvements and hundreds of millions in private investment. Since that time, the port's annual economic output has grown by 88 percent to $1.6 billion annually.
Aylett said the rail and warehousing project has been in the Morrow County Transportation System Plan since 2005 and is also identified as a priority in the port's strategic business plan.
More Stories from Northeast Oregon Now:
EOU Seeks to Develop More Minority Students
Hermiston Woman Charged with Manslaughter
The Dark World of Human Trafficking