The Port of Morrow Commission has named Lisa Mittelsdorf as its new executive director following an internal search.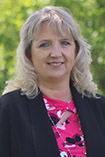 Mittelsdorf has been with the Port of Morrow for more than 30 years and has always worked closely with previous directors. She is currently the economic development director and will begin her new role on May 9.
"I'm very proud and pleased that Lisa has been selected as the executive director of the Port of Morrow. She is an exceptional leader," says Rick Stokoe, port commission president. "Lisa's successful collaborations with her many board positions, strong community and business partnerships, and experience managing successful teams will elevate the Port's success as we continue to be the second largest Port in the state."
"I'm pleased to have Lisa Mittelsdorf take the next step and be the leader of our team at the Port of Morrow," says Joe Taylor, commissioner. "Her past experience and relationships are a huge advantage not only with our port partners but also with our county, region and state."
Mittelsdorf said she has witnessed tremendous growth and diversification of businesses and industries at the port during her time with the port.
"I appreciate the opportunity I had to work under the incredible leadership of Gary Neal for many years and then his son, Ryan," she said. "Like his father, Ryan was a visionary leader with a heart for Boardman and the surrounding region. I'm proud of the work we have done over the years to increase the livability and family wages that benefit our communities in Morrow County. I look forward to supporting the vision and mission of the port in my new position as executive director."
According to the port commission, three very qualified internal applicants applied for the position. Letters of interest from qualified candidates were due April 4. Interviews were conducted on April 25 in executive session by the port commission and a second panel of representatives from across Morrow County.
The executive director position is responsible for the management and administration of Port activities. The position was left vacant after the untimely passing of Ryan Neal in January. The port presently employs approximately 135 full-time employees and is the second largest port in the state of Oregon after the Port of Portland.