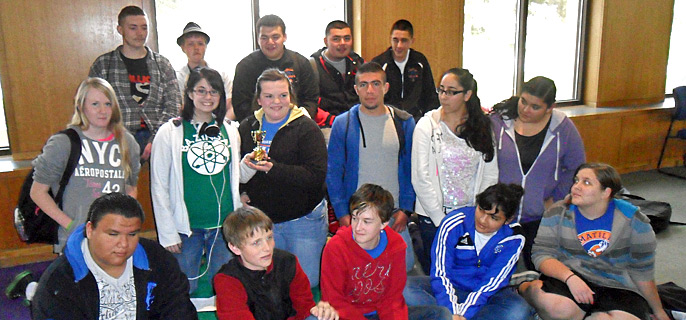 [quote style="2″]Umatilla students take third in regional math competition[/quote]
For years, Eastern Oregon University's math department has hosted a math competition for area middle and high school students.
Tuesday, Umatilla students joined the Eastern Oregon Regional Math Competition for the first time: and brought home the third-place trophy.
Without the work of one junior, however, the team might not have entered the competition. When Umatilla math teachers brought up the competition to students, it was Jaime Madrigal who jumped up and ran with it.
"He is the one who really got very excited about it. He organized the teams," UHS teacher Nancy Swarat said Thursday. "Jaime went to each of the math teachers and asked for the names of students that could do well (at the event). Then he talked to those students and asked if they would be willing to go."
Under Madrigal's efforts and Swarat's coaching, Umatilla took 16 students – six from Clara Brownell Middle School and 10 from Umatilla High School – to La Grande on Tuesday.
Twenty teams from 20 different schools entered this year's competition, traveling from as far as Vale and Ontario to Boardman and Umatilla. Stanfield and Echo also sent teams to La Grande to face off in a number of mathematical contests and activities.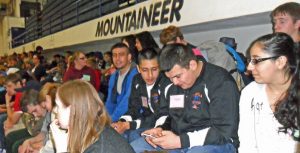 In the "Solve that Problem" challenge, students were given two minutes apiece to complete math questions. Umatilla's Armando Mendoza earned first-place honors in the competition. Adriana Madrigal took third.
Students followed "Solve that Problem" with a math relay. Five students – one from pre-algebra, algebra 1, algebra 2, geometry and pre-calculus/calculus – made up the relay team.
"They would run the length of the gymnasium, solve the problem, run back and tag the next person," Swarat said. "Then they did it again for 20 questions."
In the relay, teams did not earn points based on time taken, but once the first team finished its 20 questions, the relay stopped. Points were then calculated based on the number of correct answers. In that match, Umatilla's team came in third out of 12 teams in the "large school" division.
Umatilla's team included eighth-graders Sasha Pack and Hannah Boggs; sophomore Isaac Muguria; junior Caitlin Nelson and senior Carlos Fonseca.
Umatilla will likely send a team again next year.
"All of the kids, when we got on the bus, seemed like they had a good time," Swarat said. "They all said they're looking forward to going next year."
The math competition also includes a written exam for qualification to the state competition. All 16 Umatilla students completed the test and will soon learn if they qualified for the Oregon match.