Charles Goodrich spent 25 years as a professional gardener to support his writing habit, so it's no surprise that his work has been described as a "…vivid display [of] reverence for the beauty of the natural world."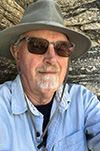 Goodrich will read from a new book of poems, Watering the Rhubarb, as part of the First Draft Writers' Series at the Pendleton Center for the Arts on Thursday, June 16. The event begins at 7 p.m. with the featured reader, followed by audience discussion and Open Mic. There is no charge and guests can choose between joining the author and others at PCA or tuning in via Zoom.
Goodrich determined early on that he didn't want to have an indoor job, and his gardening work was done at a convent, a residential treatment facility for troubled teens, and the historic Benton County Courthouse.
"After I wore out my knees, I transitioned to Oregon State University, where I was fortunate to work with Kathleen Dean Moore at the Spring Creek Project for Ideas, Nature, and the Written Word," he said.
Goodrich writes and gardens near the confluence of the Marys and Willamette Rivers in the traditional homeland of the Ampinefu Band of the Kalapuya, in Corvallis.
He and his wife, Kapa, and built their own house and still grow quite a bit of their food Since retirement he has more time to write, and quips that he spends his time, "fixing the parts of our house that I didn't do right the first time."
The writer Clem Stark notes of Goodrich's poems, "..what makes them most interesting to me is the signature wry humor of their creator and his unique contrarian spirit."
Goodrich's previous books include,  A Scripture of Crows, Going to Seed: Dispatches from the Garden, and Insects of South Corvallis, along with a collection of essays, The Practice of Home, and two co-edited anthologies, Forest Under Story: Creative Inquiry in an Old-Growth Forest and In the Blast Zone: Catastrophe and Renewal on Mount St. Helens.
First Draft Writers' Series is in its ninth year, and is funded, in part, through the support of Oregon Humanities.
More information and sign-up link to receive a zoom link is available at pendletonarts.org. Samples of Goodrich's poems are available at charlesgoodrich.com.