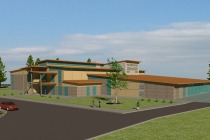 The public is invited to an informational meeting on a proposed bond measure of a Boardman Recreation Center from 5:30 to 7:30 p.m. on Monday, Sept. 8 at the Baker Pavilion at Boardman Marina Park.
The Boardman Park & Recreation District has placed a general obligation bond in the amount of $12.390 million on the Nov. 4 ballot for voter approval.
The money raised by the bond will fund the purchase of six acres of land adjacent to the SAGE Center for the construction of Boardman Community Recreation Center. When complete, the approximately 50,000-square-foot structure is expected to include a 25-meter, 6-lane indoor swimming pool with slide and waves, a warm water therapy pool, gymnasium and bleachers with two basketball courts, a climbing wall, fitness center with equipment, aerobic room, year round indoor walking track, a multipurpose community room, lockers, concessions and storage.
The estimated cost to voters would be $0.9549 per $1,000 or $95.49 per $100,000 of taxable assessed value per year.
There will be free hot dogs, chips, soda and ice cream served at the informational meeting on Monday.