Two Hermiston residents were arrested Monday and charged with theft for allegedly stealing items from the newly-opened Ranch and Home.

According to Lt. Randy Studebaker of the Hermiston Police Department, just before 2 p.m. on Monday, the department received a call from the Ranch and Home loss prevention personnel, who were live monitoring the Hermiston store's video surveillance from an off-site location.
Loss prevention informed the police that they were watching two people in the store who they suspected were concealing merchandise. Studebaker said loss prevention continued to watch the pair as they moved through the store, and provided live updates to HPD officers who were waiting in the parking lot.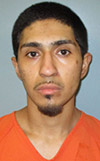 "When the pair left the store, our officers stopped them outside and recovered the merchandise they'd allegedly stolen," said Studebaker. Items included miscellaneous hardware, pepper spray, and a collapsible baton.
Officers arrested Demonyka Caro, 25, and Eric Nava, 24, both of Hermiston. Both Caro and Nava were lodged at the Umatilla County Jail on charges of second-degree theft.
Studebaker credited Ranch and Home with their level of security.
"Lucky for us, they opened with a pretty effective security system," said Studebaker.