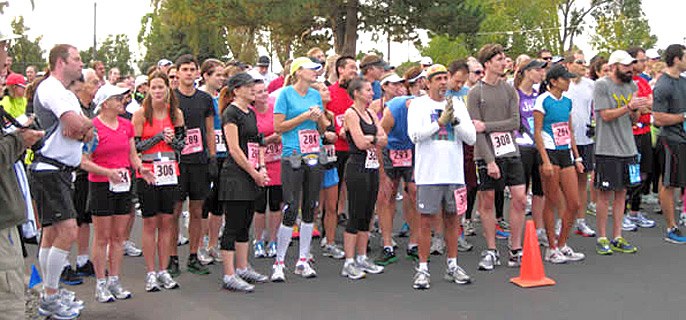 One day a year, McNary Dam opens to the public to allow hundreds of people to run across it during the annual Columbia River Power Marathon.
The event, which drew 355 participants a year ago, is now registering for this year's races, which will take place on Sept. 21. Participants will have five events to choose from:
• 8K
• Half marathon
• Marathon
• 50K
• Marathon relay
All events start at 8 a.m. at the Desert River Inn in McNary. Runners then head toward McNary Dam and cross it into Washington. From there, the route continues to the basalt bluffs overlooking the Columbia River. At the 2.5 mile marker, 8K and walkers turn around and retrace their tracks back to the finish line near the Big River Golf Course on Willamette Avenue.
Marathoners and half marathoners, as well as the marathon relay participants, continue to Plymouth, Wash., before returning to Oregon across the I-82/US 395 foot bridge. Once back in Oregon, the route continues next to the U.S. Army Corps of Engineers Nature Trails. The course then continues past the dock at the Port of Umatilla and drops into McNary Beach Park. At this point, half marathoners climb back to the finish while the marathoners continue for five miles and Ultra participants will continue along the scenic Columbia River along the Lewis and Clark Trail to Hat Rock State Park. After looping past Hat Rock, participants return to McNary Beach Park on the Lewis and Clark Trail before ascending to the finish.
The event will feature an Expo area with a potato bar, live music, a message station, as well as prizes for the participants. A new feature this year will be a beer garden.
Last year's participants included runners from all over the United States, including New York, Tennessee, Hawaii, Alaska and places in between.
Those who register by Aug. 31 can save money. The registration fee, prior to Sept. 1, for the 50K and marathon participants is $60 without a T-shirt and $80 with a T-shirt; half marathon entrants will pay $45 without a T-shirt and $65 with a T-shirt; 8K and marathon relay participants will pay $25 without a T-shirt and $45 with a T-shirt.
Entrance fees after Aug. 31 are $70 for 50K and marathoners; $55 for half marathoners; and $35 for 8K and marathon relay participants. Registration after Aug. 31 will not include T-shirts. Online registration closes on Sept. 19. In-person registration will be accepted through race day.
For more information, visit the Columbia River Power Marathon website or call the Hermiston Chamber of Commerce at 567-6151.